Zorra invites us to bake a Kings Cake for January 6.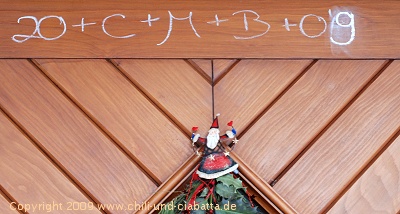 In these days the Sternsinger (see Star Boys' Singing Procession for Germany) – children dressed as the 3 kings – visit almost every house here, collecting money for charity and writing C+M+B (the abbreviations for "Christus mansionem benedicat", some believe it to be the initials of the three kings' names) above the main door of the home to confer blessings on the occupants for the New Year.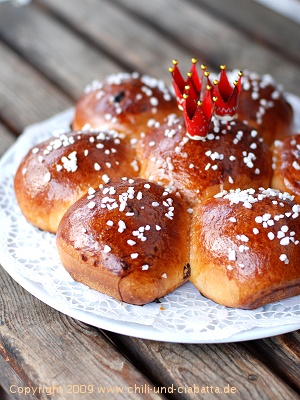 Although a kings cake has no tradition in our family, for me it's the third one: in 2007 I baked a mexican rosca de reyes, in 2008 a french gâteau des rois and this year I chose a swiss Dreikönigskuchen.
For the cake I used a mixture of all-purpose flour and swiss Zopf flour, a mixture of about 90% wheat flour and 10% spelt flour.
It was me who found the almond 🙂
Das Rezept auf Deutsch findet sich hier in meinem Brotkasten.
| | |
| --- | --- |
| -========= | REZKONV-Recipe – RezkonvSuite v1.4 |
| Title: | Swiss Kings Cake – Schweizer Dreikönigskuchen |
| Categories: | Bread, Cake, Switzerland |
| Yield: | 1 Cake |
Ingredients
H
DOUGH
250
grams
 
All-purpose flour (Weizenmehl Type 405)
250
grams
 
Special "Zopfmehl", a mixture of 90% wheat and
 
 
 
-10% spelt flour
1
pack
 
Instant yeast or 20 g fresh yeast
3
tablesp.
 
Sugar
250
ml
 
Milk
1
teasp.
 
Salt
1
teasp.
 
Finely grated lemon zest
100
grams
 
Soft butter
100
grams
 
Raisins
1
 
 
Egg
1
 
 
Almond; blanched
1
 
 
Egg yolk; for brushing
H
DECORATION
25
grams
 
Apricot jam
1-2
tablesp.
 
Water
2
tablesp.
 
Coarse grained sugar, sugar crystals
Source
| | |
| --- | --- |
|   | adapted from Brückenbauer 1 |
|   | 3. Januar 1996 |
| | |
| --- | --- |
|   | Edited *RK* 01/06/2009 by |
|   | Petra Holzapfel |
Directions
Make a yeast dough by hand or machine, kneading in the raisins at last.
Let the dough rise in the refrigerator for about 4 hours, then turn it out onto the working surface.
Divide the dough into 6 smaller parts (mine were about 140 g) and one bigger part, roll the dough into balls, placing the almond into one of the balls.
Butter a tart pan (30 cm diameter) or use baking paper. Put the big ball in the middle surrounded by the smaller balls. Cover and let ferment in a cool place until doubled (I used the cool cellar steps which took about 4 hours and 1 hour at room temperature; you can also leave the cake in the fridge overnight).
Preheat the oven at 175°C (350°F).
Brush the cake with an egg yolk mixed with some drops of water or milk.
Bake the cake in the lower third of the oven for about 40-50 minutes.
Remove the cake from the oven and put it on a rack.
Mix the apricot jam with 1-2 tb of water (it should not be too fluid), warm it up a little bit and pass it through a sieve. Brush the warm cake with the jam and sprinkle with coarse sugar.
Original:
:http://www.migrosmagazin.ch/pdfdata/pdfarchiv/bb/Bb-1996/01/BB01s32. pdf
=====