Long time ago I was tagged by dolce for Angelika's nice idea of a Foodblogger Welcome Dinner:
Which menu would you serve blogging friends for a welcome dinner upon their first visit to your home?
At that time I already knew that this would be not a virtual event for me but a real one: Ralph from Hungrig in San Francisco had announced that on his short trip to Germany in October he would come to visit us!
As I like the idea of cooking with seasonal ingredients (for 7 1/2 years I presented a monthly 3-course-menue in my Kochkiste) I decided to have a menue fitting for fall. When I asked Ralph if he had a special wish he answered "venison" (which I should have known reading this comment!). I like to prepare as much as possible in advance: that means less stress and more time to spend with my guests.
Ralph and his son Sven arrived yesterday before lunch. We had a quick pumpkin soup and a nice Black Bean Avocado Salad with Sauerländer Mengbrot.
The weather was very nice and warm for this time of the year, so we decided to make a trip to the Grosser Arber, the highest peak of the Bavarian-Bohemian-Mountain Ridge, comfortably taking the Gondola to the summit. The four rocky ridges of
the Grosser Arber (to be easily accessed by the new circular trail) offer terrific views in all directions, you can even see the austrian alps when it's not too hazy.
But I don't want to keep you any longer on tenterhooks – here is what we had for dinner (missing recipes will follow soon):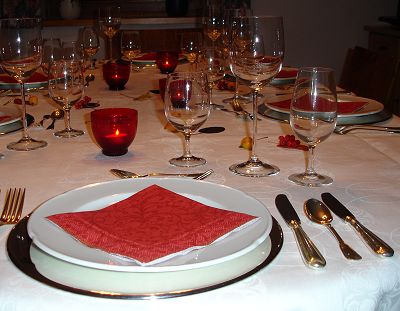 Champagne with selfmade Cassis (Kir Royal) or Kornelkirschlikör
***Leberparfait with Cumberlandsauce, Mache with Shallot-Vinaigrette***

Floc de Gascogne rosé
***Mushroom essence***
***Venison Ragout with "Semmelbömbchen", Brussels sprouts***

Wild Duck Creek Estate 2001 Springflat Shiraz
***Quinces in Lime Vanilla Sirup with Crème fraîche***
Williamine Morand
Espresso