Of course it's a great pleasure to follow Zorra's invitation for Bread Baking Day 2007!
In July I hosted a food blogger meeting. Ilka and Ulli from Rezkonv Suite Blog gave me flowers flours and hulled hemp seed which I had never used before. Hemp is a very old useful plant. After decades of illegacy it is now booming again.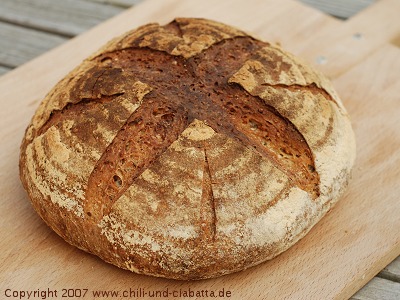 For World Bread Day I decided to bake a sourdough bread with hemp seed.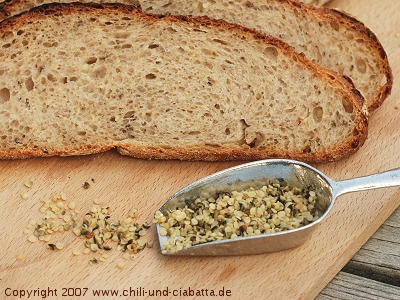 I used a mixture of bread flour (wheat flour), spelt flour and whole-wheat flour. The hemp seeds (or "nuts") give the bread a very nice aromatic and nutty flavour. We ate half of a bread for breakfast 😉
Of course you can use only wheat or try other ratios.
Hier geht's zum Sauerteigbrot mit geschälten Hanfnüssen in meinem Brotkasten.
| | |
| --- | --- |
| -========= | REZKONV-Recipe – RezkonvSuite v1.4 |
| Title: | Sourdough Bread with Hulled Hemp Seed |
| Categories: | Bread, Sourdough, Seed |
| Yield: | 2 Breads |
Ingredients
H
LEVAIN
15
grams
Fermented firm sourdough starter; refreshed 8
-hours before
45
grams
Lukewarm water
75
grams
Bread flour (Weizenmehl Type 550)
H
DOUGH
475
Bread flour (Weizenmehl Type 550)
125
grams
Spelt flour (Dinkelmehl Type 630)
100
grams
Whole-wheat flour
455
grams
Lukewarm water
15
grams
Salt
135
grams
Fermented levain
125
grams
Hulled hemp seed
Source
| | |
| --- | --- |
| | Edited *RK* 10/15/2007 by |
| | Petra Holzapfel |
Directions
Dissolve the sourdough starter in the water. Add the flour and knead the stiff dough until it is fairly smooth. Place it in a covered container and let ferment overnight, about 12 hours.
For the dough combine the flours and the hemp in the mixing bowl of a stand mixer and add the water. Using the dough hook, mix on low speed just until the dough is combined, about 3 minutes. Cover the bowl and let rest for 10-30 minutes.
Add the salt and the levain and mix the dough on medium speed just until it is smooth, about 4 minutes. Remove the dough from the mixer and place it in a lightly oiled bowl, cover it with plastic wrap. Let it ferment until it is airy and well expanded but not yet doubled in bulk about 4-5 hours, giving it a stretch and fold after 2 hours.
Turn the dough out onto a floured work surface. Cut the dough in half (each piece should weigh about 710 g). Lightly round the pieces and cover them loosely with plastic wrap. Let rest until well relaxed, 15-20 minutes.
Shape the dough into even and tight round loaves without deflating them. Place the shaped dough smooth side down in floured bannetons. Lightly sprinkle them with flour and place them in large plastic bags. Proof the dough until it is well expanded and springs back slowly when gently pressed with a floured finger, about 2 1/2 hours.
At least 45 minutes before the dough is fully proofed preheat the oven with a baking stone to 220°C.
Turn the loaves out onto a peel with cornmeal and slash a large and deep X into the top of each. In the center of each quarter slash a small dash.
Slide the loaves onto the hot stone and pour a cup of water into the oven. In the first 5 minutes spray 3 times water from a plant mister into the oven. Bake the breads until they are very dark and evenly browned all around and sound hollow when thumped on the bottom, 40-45 minutes.
Let the breads cool on a rack.
The breads have a very nice aromatic taste and a good shelf life.
=====
I'm already looking forward to all the other entries!
Here you can find my bread for bread baking day 2006.
Update: the round-up is online – with 183 posts!