Wena from mum-mum is our host for this 5th "Is My Blog Burning"-Event, thanks a lot for giving a fascinating theme: Fish!
So here's my "Catch of the Day":
My daughter Kathi spent one year (2000/2001) as an exchange student in Brazil (Ouro Branco, Minas Gerais). She loved her guest family, the people, the country – and the food. She told us so much about this beautiful country that we decided to travel with her to Brazil last summer.
We spent one week in Minas with her family before we went to Bahia, where we first had a really relaxing week in the quiet and very small village of Imbassai with beautiful uncrowded beaches, barracas (beach restaurants) with nice finger food, mostly fresh seafood, cold beer and Caipirinhas. Then we moved for one week to the lively Salvador, capital of the state of Bahia, with a a lot of music and drums everywhere (it's the home of Olodum, who played with Michael Jackson in his video "They Don´t Care About Us"). Our trip ended with one week at Morro de Sao Paulo on the Isle Tinharé (no cars allowed :-): only white beaches, clear water ideal for snorkeling, breathtaking sceneries, nice little restaurants in the small village and a lot of stands on the beach, offering caipifrutas (fruit-cocktails) and fresh juice every evening.
When thinking over which recipe I should chose for this day I immediately thought of a special dish we had quite often in this three weeks in Bahia: Moqueca ("moo-keh'-kah").
Moqueca is a stew which exists in numerous varieties: mostly with fish ("Moqueca de peixe") or fish mixed with shrimps ("Moqueca de peixe com camarão", you can find a photo of this dish here) but also with shrimps alone or crabs (there even exist some vegetarian moquecas), all traditionally served in shallow, thick earthenware bowls.
An important influence on Bahian cuisine came from the enslaved Africans, who not only brought their own style of cooking, but also modified Portuguese dishes with African ingredients as for example the red dendê oil extracted from an African palm, coconut milk, cilantro and hot peppers. You find all these things in the moqueca. For me this recipe brings back memories of wonderful holidays in a great country with nice and warm people.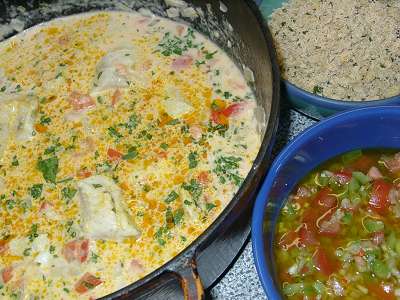 Die Rezepte in Deutsch finden sich hier!
MOQUECA BAIANA DE PEIXE (Bahian Fish Stew with Coconut)
serves 4
600 g firm white fish fillets (e.g. halibut, redfish)
TEMPERO (Marinade)
2 cloves garlic, minced
1 tb salt
1 bunch of cilantro
4 scallions
1-2 limes: juice
REFOGADO
3 large tomatoes; peeled, seeded and diced
2 large onions; diced
1 red bell pepper; seeded and diced
2 tb olive oil
1 can coconut milk
2 tb Dendê oil; palm oil
Rinse fish fillets and pat dry. Remove any left bones. If necessary cut in larger pieces.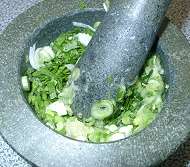 Marinade: Using a mortar and pestle pound garlic, salt, the green of half of the cilantro sprigs and the scallions, mix with the lime juice (or use a blender, as most Brazilians nowadays do ;-)).
Put fish into an airtight bag (ziplock bag) and add marinade. Let marinate for 1-2 hours in a cool place.
Heat olive oil in a heavy pot over medium heat and sauté diced tomatoes, onions and peppers until the water is gone for a few minutes. Add the coconut milk and let simmer for a few minutes until sauce thickens. Now add the fish with the marinade and stir gently. Simmer for about 10-15 minutes until fish is tender but still firm. Season to taste with salt and lime juice. Add the dende oil and sprinkle on some
minced cilantro.
Serve directly from the pan accompanied by white rice, farofa (roasted manioc flour) and vinagrete or molho de pimenta (a spicy vinaigrette sauce). These last dishes are also a must for the famous Feijoada completa (Black Bean Stew), the Brazil's national dish.
Here are two recipes for farofa (a side dish with roasted manioc flour, which you sprinkle over your food): a typical bahian yellow farofa with dendê oil and a richer version with egg (you can substitute dry breadcrumbs for manioc flour, if you don't get it):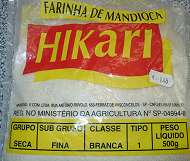 FAROFA DE DENDÊ (Farofa with dendê oil)
2 tb dendê oil; palm oil
1 tb onions; finely chopped
100-150 g manioc flour
salt
Sauté onions in dendé oil until soft, add manioc flour and cook over low heat stirring constantly until golden. Sprinkle with salt, to taste.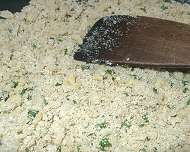 FAROFA DE OVOS (Farofa with egg)
2 tb butter
1 tb onions, finely chopped
1 tb minced cilantro or Italian parsley
2 eggs, beaten
100-150 g manioc flour alternatively dry breadcrumbs
salt
Melt butter in a nonstick skillet, add onion and sauté until translucent, add herbs. Add eggs and stir as for scrambeled egg. Then stir in enough manioc flour to get a rather dry mass. Continue stirring until the meal gets crumbly and a little bit roasted. Sprinkle with salt, to taste.
MOLHO DE VINAGRETE (Vinaigrette Sauce)
1 onion, diced
1 clove garlic, minced
1-2 large fresh tomatoes, chopped
1 green bell pepper
4 Malagueta-Peppers or red cayenne peppers or more if you like; finely chopped
1 tb vinegar
1 lime: juice
1/2 cup olive oil
Italian parsley, finely chopped
Combine all the ingredients in a large bowl. Stir well and serve either at room temperature or cold.
Bom apetite!