Bread Baking Day created by zorra celebrates the second anniversary. Literally in the last moment I managed to fire up my oven for the Pizza Party.
As I have already blogged about my preferred pizza recipe, I tried something new.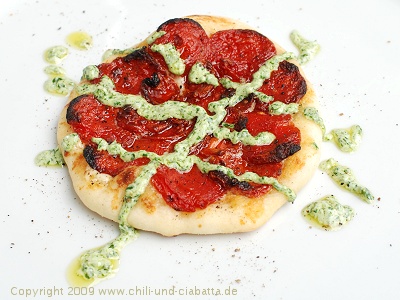 The original recipe for these pizzette is from Tanja Grandits Aroma pur – Meine fröhliche Weltküche.
I made a few changes: using less yeast and letting the dough ferment overnight yields a more aromatic dough.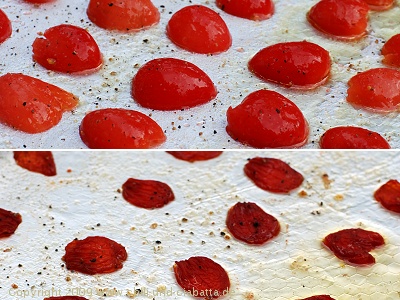 Don't use too small tomatoes. At first I tried "Coeur de Pigeon" which produced confit tomatoes in the size of a thumbnail. So I made a second batch with cocktail tomatoes – much better.
Other than Grandits I baked the pizzette on a baking stone in a very hot oven.
The taste of the confit tomatoes on these little pizze is fantastic: sweet and incredibly aromatic. The pesto matches very well. It is originally made with cilantro instead of parsley. As I can't get fresh cilantro here I used parsley which is growing in my garden (this change made my son happy because he dislikes cilantro).
| | |
| --- | --- |
| -========= | REZKONV-Recipe – RezkonvSuite v1.4 |
| Title: | Tomato-Mascarpone-Pizzette with Goat Cheese-Parsley-Pesto |
| Categories: | Pizza, Tomato, Pesto, Cheese |
| Yield: | 8 Servings |
Ingredients
H
TOPPING
700
grams
 
Cherry tomatoes or date tomatoes; or more to
 
 
 
-taste*
 
 
 
Powdered sugar
 
 
 
Salt
 
 
 
Pepper
2
tablesp.
 
Olive oil
200
grams
 
Mascarpone
100
grams
 
Freshly grated parmesan
1/2
 
 
Orange: grated peel
H
DOUGH
1/2
teasp.
 
Dry yeast
450
grams
 
Pizza flour
2
teasp.
 
Salt
3-4
tablesp.
 
Olive oil
240
grams
 
Water
H
PESTO
30
grams
 
Flat leaf parsley; chopped
1
 
 
Garlic clove
1
tablesp.
 
Roasted pine nuts
50
grams
 
Creamy goat cheese
1
tablesp.
 
Grated parmesan
2
tablesp.
 
Yoghurt
 
 
 
Salt
 
 
 
Pepper
Source
| | |
| --- | --- |
|   | adapted from |
|   | Tanja Grandits |
|   | Aroma pur |
|   | Meine fröhliche Weltküche |
| | |
| --- | --- |
|   | Edited *RK* 07/01/2009 by |
|   | Petra Holzapfel |
Directions
Pizza dough: the evening before make an elastic dough (this can be easily done in a bread baking machine). Put the dough into an oiled freezer bag and place it in the refrigerator overnight.
Confit tomatoes: Preheat oven to 100°C. Line rimmed baking sheet with aluminum foil, brush it with some olive oil. To peel tomatoes, drop into boiling water for a few seconds. Remove immediately and plunge into cold water. Peel the skin off, halve the tomatoes and remove the seeds. Place them outside up onto the baking sheet. Dust with powdered sugar, salt and pepper and drizzle with the oilve oil. Bake for 2 hours in the oven. Let cool.
For the pesto place salt and garlic into a mortar and pestle. Add parsley, pines nuts, pestle thoroughly (you can also use a mixer). Slowly add the oilve oil, stirring. Add goat cheese, parmesan and stir until combined. Salt and pepper to taste.
One hour before baking take the dough out of the refrigerator.
Mix mascarpone with parmesan and grated orange peel.
Preheat an oven to 250-275°C placing a baking stone on the lowest rack.
Divide the dough into 8 parts, keep covered. Working in batches form little round pizzette, spread with mascarpone-cheese mixture and put the tomatoes on top. Bake in the hot oven for about 5-7 minutes. If the tomatoes get to dark, cover with aluminum foil.
Serve hot with the parsley-goat cheese pesto.
Petra: Grandits uses a dough with more yeast without fermenting overnight. She bakes the pizzette at 180°C for 10 minutes. My recipe looks more like a pizza.
*I used the whole of the confit tomatoes for 4 pizzette. Cocktail tomatoes are fine.
=====