As much as I dislike oats in porridge or oatmeal gruel (sounds like cruel to me ;-)) I really appreciate them in bread (which can be seen here, here, here and here). So it was very nice to see bread with oats as the new theme for bread baking day #9 chosen by Astrid from Paulchen's Foodblog.
Flipping through my bread books I didn't have to go a long way to find in Amy Scherber's Amy's Bread a recipe of my choice: I decided to bake the Whole Wheat Sandwich Bread with Oats and Pecans.
The recipe uses a sponge starter. (From the other half of the starter I baked a crusty kind of Baguette, adapted from Amy's Crusty Italian Loaf).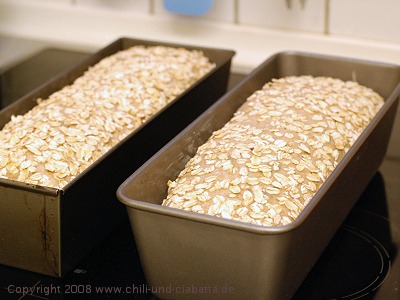 The recipe yields two loaves – here in the bread pans at the end of the rising period.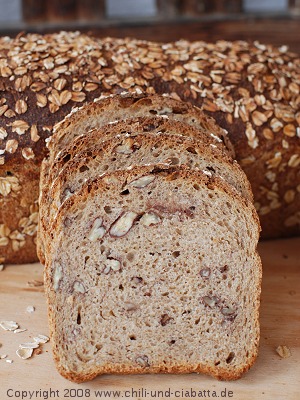 The bread is packed with toasted pecans which lend a great flavor. In a plastic bag it stays fresh for some days. It freezes very well.
Hinweis: Das Rezept für das Kastenbrot mit Vollkornweizen, Haferflocken und Pecannüssen auf Deutsch gibt es unten.
| | |
| --- | --- |
| -========= | REZKONV-Recipe – RezkonvSuite v1.4 |
| Title: | Amy's Sponge Starter |
| Categories: | Bread, Starter |
| Yield: | 1 Recipe |
Ingredients
360
grams
Very warm water (105° to 115°F)
1/4
teasp.
Active dry yeast
480
grams
Unbleached all-purpose flour (Petra: Type 550)
H
EQUIPMENT
1
2-quart clear plastic container
Source
| | |
| --- | --- |
| | adapted from |
| | Amy Scherber |
| | Amy's Bread |
| | |
| --- | --- |
| | Edited *RK* 04/08/2008 by |
| | Petra Holzapfel |
Directions
Mix all the ingredients together in a medium bowl and stir vigorously with a wooden spoon for 2 to 3 minutes, until a smooth, somewhat elastic batter has formed. Scrape the sponge into a 2-quart clear plastic container and cover with plastic wrap. At this point you have two options:
If you plan to make your dough later that same day, let the sponge rest at room temperature until it has risen to the point where it just begins to collapse. This may take from 6 to 8 hours, depending on the temperature of the sponge, the temperature of the room, and the strength of the yeast. The sponge will triple in volume and small dents and folds will begin to appear in the top as it reaches its peak and then begins to deflate. The sponge is now in perfect condition to be used in a dough.
If you're not planning to make your dough until the next day or the day after, put the covered sponge in the refrigerator and let it rise there for at least 14 hours before taking it out to use in a recipe. Be sure to compensate for the cold temperature of the starter by using warm water (85° to 90° F) in the dough instead of the cool water specified in the recipe. Or let the starter sit out, covered, until it reaches room temperature (this may take several hours) but don't let it collapse too much before you use it.
=====
| | |
| --- | --- |
| -========= | REZKONV-Recipe – RezkonvSuite v1.4 |
| Title: | Organic Whole Wheat Sandwich Bread with Oats and Pecans |
| Categories: | Bread, Oats, Nuts |
| Yield: | 2 Brote* |
Ingredients
1
teasp.
Active dry yeast
60
grams
Warm water
555
grams
Organic whole wheat flour (or more if needed)
375
grams
Organic unbleached all-purpose flour (Petra:
-Type 550)
180
grams
Organic old-fashioned rolled oats, plus
-additional for topping
22 1/2
grams
Kosher salt
360
grams
Sponge Starter (not all of the starter!)
600
grams
Cool water (75 °F)
45
grams
Honey
30
grams
Molasses
30
grams
Canola or other vegetable oil
240
grams
Pecan pieces, toasted
H
EQUIPMENT
2
9 by 5-inch loaf pans, oiled (buttered, Petra:
-30 cm))
Source
| | |
| --- | --- |
| | adapted from |
| | Amy Scherber |
| | Amy's Bread |
| | |
| --- | --- |
| | Edited *RK* 04/08/2008 by |
| | Petra Holzapfel |
Directions
*Makes two 9 by 5-inch loaves
A sponge starter bread
Place the yeast and warm water in a large bowl and stir with a fork to dissolve the yeast. Let stand for about 3 minutes.
Whisk the whole wheat flour, unbleached flour, oats, and salt together in the bowl of a kitchen mixer.
Add the sponge starter, cool water, honey, molasses, and oil to the yeast mixture. Knead for about 2-3 minutes on low speed.
Knead on second speed for about 6 to 8 minutes, until it becomes compact and elastic. If it feels too stiff to knead, add water 1 tablespoon at a time until you have a soft, malleable dough. If it's sloppy wet and impossible to knead, add another 1/4 to 1/3 cup (35-50 g) of whole wheat flour (mine was ok without any addition). Shape the dough into a loose ball and let it rest, covered with plastic wrap, on the lightly floured work surface for 20 minutes.
Flatten the dough and stretch it gently into a rectangle about an inch thick. Spread the pecans evenly over the dough. Fold the whole mass into an envelope and knead and fold it gently until the nuts are well distributed, about 2 to 3 minutes. If the dough resists, let it rest for 5 minutes and then continue kneading. Some of the nuts may pop out of the dough, but they can easily be incorporated again after the first rise, when the dough has softened.
Shape the dough into a loose ball and place it in a lightly oiled bowl, along with any loose nuts. Turn the dough to coat with oil and cover the bowl tightly with oiled plastic wrap. Let the dough rise at room temperature (75° to 77°F; 23-25°C) until it has doubled in volume, about 2 1/2 to 3 hours. (You can also refrigerate this dough overnight and shape it and bake it the next day: Let it rise for 1 hour at room temperature, or until it looks slightly puffy but has not doubled, before refrigerating. The next day, let it rise for 2 hours at room temperature before shaping it.)
When the dough has doubled, loosen it from the bowl with lightly floured hands and gently pour it onto a floured work surface. Press any loose pecans into the dough and divide it into 2 equal pieces. Shape each piece into a log.
Spread the oats for topping on a flat plate or baking sheet. Use a pastry brush or a plant sprayer to lightly moisten the top of each log with water, then roll the tops of the loaves in the oats. Place each loaf seam side down in an oiled 9 by 5-inch (23×12 cm, Petra: 30 cm Kastenform) loaf pan. Cover them with oiled plastic wrap and allow to rise for about 2 hours, or until they have doubled in size (a finger pressed gently into the dough will leave an indentation).
Thirty minutes before baking, preheat the oven to 425°F (220°C). Place a baking stone in the oven to preheat and place an empty water pan directly below the stone.
When the loaves have doubled, place the pans on the baking stone. Quickly pour 1 cup of very hot water into the water pan and immediately shut the door. After 1 minute, using a plant sprayer, mist the loaves quickly 6 to 8 times, then shut the oven door. Repeat the misting procedure 1 minute later.
Bake for 15 minutes, then reduce the oven temperature to 375°F (190°C) and bake for 20 to 25 minutes longer, until the loaves sound slightly hollow when tipped out of the pans and tapped on the bottom. The sides and bottom of the loaves should feel firm and slightly crusty. If the tops are browned but the sides are still somewhat soft, place the loaves directly on the stone to bake for 5 to 10 minutes longer (which I did).
Transfer the loaves to a rack and allow to cool completely before slicing.
=====
| | |
| --- | --- |
| ========== | REZKONV-Rezept – RezkonvSuite v1.4 |
| Titel: | Kastenbrot mit Vollkornweizen, Haferflocken und Pecannüssen |
| Kategorien: | Brot, Kasten, Nuss, Hafer |
| Menge: | 2 Brote* |
Zutaten
H
VORTEIG (MEHR ALS BENÖTIGT!)
1/4
Teel.
Trockenhefe
360
Gramm
Wasser
480
Gramm
Weizenmehl Type 550
H
ENDGÜLTIGER TEIG
1
Teel.
Trockenhefe
60
Gramm
Warmes Wasser
555
Gramm
Vollkornweizenmehl
375
Gramm
Weizenmehl Type 550
180
Gramm
Kernige Haferflocken
23
Gramm
Salz
360
Gramm
Vorteig (nicht die gesamte Menge!)
600
Gramm
Wasser
45
Gramm
Honig
30
Gramm
Zuckerrübensirup
30
Gramm
Pflanzenöl
240
Gramm
Geröstete Pecannüsse; in groben Stücken
Kernige Haferflocken; zur Garnitur
H
SOWIE
2
30 cm Kastenformen
Quelle
| | |
| --- | --- |
| | nach |
| | Amy Scherber |
| | Amy's Bread |
| | |
| --- | --- |
| | Erfasst *RK* 15.04.2008 von |
| | Petra Holzapfel |
Zubereitung
Vorteig: benötigt ca. 8 Stunden, ergibt 840 g (mehr als die doppelte benötigte Menge!)
Wasser und Hefe verrühren, dann das Mehl hinzufügen und alles zu einem glatten Teig verschlagen. Bei Raumtemperatur 6-8 Stunden stehen lassen, bis sich das Volumen verdreifacht hat und der Teig gerade wieder zusammenzufallen beginnt (alternativ kann man den Teig auch für mindestens 14 Stunden im Kühlschrank gehen lassen).
Die Hefe und das warme Wasser verrühren, etwa 3 Minuten stehen lassen.
Für den endgültigen Teig die Mehle und die Haferflocken in die Schüssel der Küchenmaschine geben. Den Vorteig, Hefemischung, Wasser, Honig, Zuckerrübensirup und Öl zugeben und etwa 3 Minuten auf Stufe 1 verkneten. Nun das Salz zugeben und weitere 6-8 Minuten auf Stufe 2-3 kneten, bis der Teig elastisch und glatt ist. Je nach Bedarf noch wenig Wasser oder Mehl zugeben. Den Teig 20 Minuten abgedeckt ruhen lassen.
Den Teig auf eine leicht bemehlte Arbeitsfläche geben und zu einem flachen Rechteck auseinanderdrücken. Die Nüsse darauf verteilen. Den Teig wie einem Geschäftsbrief dreifach falten, dann alles vorsichtig etwa 2-3 Minuten verkneten, bis die Nüsse gleichmäßig verteilt sind. Den Teig zu einem Ball formen und in einer leicht geölten Schüssel abgedeckt bei Raumtemperatur etwa 2 1/2 bis 3 Stunden gehen lassen (man kann den Teig hier auch nach einer Stunde Gehen über Nacht im Kühlschrank weiter gehen lassen, dann
am nächsten Tag 2 Stunden Raumtemperatur nehmen lassen, bevor man ihn weiterverarbeitet).
Eine Arbeitsschale mit Haferflocken ausstreuen.
Den Teig aus der Schüssel auf die leicht bemehlte Arbeitsfläche geben und in 2 Hälften teilen. Jedes Teil zu einem länglichen Laib formen. Die glatte Oberfläche mit Wasser besprühen und in den Haferflocken wälzen. Die Laibe mit der Naht nach unten in die gebutterten Kastenformen legen. Abgedeckt nochmal in etwa 2 Stunden zu doppeltem Volumen aufgehen lassen (Fingerprobe).
Rechtzeitig vorher den Backofen mit einem Backstein auf 220°C vorheizen.
Die Formen auf den Backstein geben und Wasser in den Ofen einsprühen. die Brote 15 Minuten backen, dann die Temperatur auf 190°C reduzieren und weitere 20-25 Minuten backen. Die Brote dann aus den Formen nehmen und freistehend weitere 5-10 Minuten backen.
Auf einem Rost auskühlen lassen.
Anmerkung Petra: Sehr schönes Brot mit kräftigem Nussaroma. Hält sich in Plastiktüten sehr gut, zieht dabei richtig schön durch und ist saftig. Lässt sich prima einfrieren.
=====