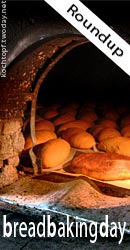 I'm really happy! Peeking in my mailbox I found 47 flatbread entries for bread baking day #7. I had to pick up some of them from the spam folder – so if I missed something or forgot somebody please tell me and I will add it.
First of all I have to thank you so much for all the interesting recipes! What I like is that many breads are really easy to make and often don't even require an oven. So no more excuses – everybody can bake bread!
Now let's begin with the flatbreads in order of their arrival. The entries are in english if not otherwise specified.
Alexandra (New York, USA) from Addicted Sweet Tooth made Focaccia topped with tomatoes, rosemary and sea salt. Just enjoy the bread as it comes out of the oven or even cold – no other spread is necessary!

Irma Rode (Germany) from Catatan Irma takes us to Scotland where the traditional Baps are served for breakfast.

Dani (Brasil) from Gatinha na Cozinha shows us in a photo tutorial how to make pão arabe recheado, a stuffed bread baked in a pan. Her entry is in portuguese but there is a translator in her blog.

Asha (NC, USA) from Foodie's Hope served Lavash (Naan-e Lavash) with a Pomegranate soup (Aash-e Anar). This thin bread comes from Persia.

Dhivya (California, USA) from Culinary Bazaar brings us Ksra – Moroccan Anise Bread which she finds is similar to naan.

Srivalli (India) from Cooking 4 all Seasons makes Stuffed Aloo Parathas after her Ammas recipe – a timeless favorite!

Judy (Ventura, California, USA) from Judy's Gross Eats baked Algerian Flatbread on her comal. These spicy flatbreads can also be used to wrap a savory filling.

Laurie (Anchorage, Alaska) from Mediterranean Cooking in Alaska recommends Piadine, a soft and chewy Italian Flatbread to be served with White Bean Hummus.

Arfi (New Zealand) from Homemades made the Garlic and Rosemary Oil Flatbread as a nibble for the children. What a nice picture – I can almost smell the rosemary!

Karla (Heidelberg, Germany) from Chaosküche shares with us an easy to make recipe for Swedish Knäckebrot.

Susan (California, USA) from Wild Yeast says: no more store-bought crackers if you use the pasta roller attachment to your kitchen mixer to make these quick Sesame-Semolina Flatbreads!

Melissa (Atlanta, Georgia, USA) from Mighty Muffin topped her Whole Grain Naan Bread with garlic, olive oil, parmesan and turkish oregano. The two-day-bread rewards you with a rich and complex taste.

Although Boaz (USA) from Folding Pain didn't find the recipe of her his childhood, she he thinks her his pletzlach with a topping of onions and poppy seeds are a tasty alternative.

Leigh (Tampa Bay, Florida) from Lemon Tartlet And The Dust Bunnies baked crispy Thin Wheat Crackers. Looking at the photo it seems they are great for a picknick!

Zainab (Jubail Indl City,Saudi Arabia) from Arabic Bites teaches us how to make Al3ish Albalady (Egyptian Flat Bread)

Amber (Indiana, USA) from Amber's Delectable Delights provides us with a fabulous Focaccia infused with herb oil.

Chriesi (Zürich, Switzerland) from Almond Corner fills her first ever baked flatbread with spinach and pecorino.

Bee and Jai (Northwestern US) from Jugalbandi fill their parathas with cauliflower and pomegranate seeds. The photos are very inviting, so if I ever stumble upon dried pomegranate seeds I will try these!

Y (Sydney, Australia) from Lemonpi tells us "Flatbread doesn't get quicker, easier and flatter than Chapatis". She baked the Northern Indian Bread in a frying pan.

Trisha (Phoenix, Arizona, USA) from The Zest: Cooking Like I Mean It philosophizes over bread and the world and is happy that the Algerian Flatbread takes her to North Africa even though her oven is down.

Zorra (Andalusia, Spain) from 1x umrühren bitte aka kochtopf wanted to bake a bread of her neighbour country. Her Morrocan Flatbread is a sourdough bread – perhaps not really authentic but fluffy and loved by everyone!

Ulrike (Northern Germany) from Küchenlatein explains us the difference between Staffordshire Oatcakes and Scottish Oatcakes. Her Cranberry Oatcakes which she likes with cheese belong to the latter ones.

Lamiacucina (Basel Switzerland) from lamiacucina is a phantastic pasta maker. Hence, it is not surprising that he uses the pasta roller for his first bread: Lingue di suocera, wonderful crisp crackers with rosemary. The post is in german.

Astrid (Vienna, Austria) from Paulchen's Foodblog discovered that her Lavash is tasty and crunchy and it's easy and quick to make. What else can you wish?

Nils (Germany) from Ye olde bread blogge took part with a french style loaf. His French cobblestone has to be treated very gently. The overnight retardation in the fridge improves the flavor.

Divya (Glendale, California) from Dil se… learnt this recipe for Aloo Paratha from her mother in law who is an expert in preparing them.

Smita (Rochester, NY) from Smita Serves You Right gines variety to the bread color. Her Methi theplas' (flatbread with fenugreek leaves) have a nice green.

Pepy (Winnipeg, MB, Canada) from The Art and Science of Food melted two recipes for her Indonesian Roti Maryam and finally found the texture she wanted to achieve.

Aparna (India) from My Diverse Kitchen baked this beautiful Naan in her pan. She likes this method better because she thinks that oven-baked naans tend to be a bit more chewy.

Laura (Oxford, Ohio, USA) from The Spiced Life also turned to Indian Bread: Dahi Chapati are her contribution.

Sarah (Oshawa, ON, Canada) from What Smells So Good? submited Herby Chickpea Crackers, a gluten-free, fat-free bread.

Deeba (Gurgaon, North India) from assionate About baking…& beyond wraps it up: she serves her Indian Flatbread as Chapati Wraps with Turkish Kebabs.

Tommi (Arcata, Ca) published his entry at The Fresh Loaf. He loaded the Barbari, an Iranian flatbread with sesame, poppy seeds and sunflower seeds.

Melissa (Birmingham, UK) from Hecticium boiled potatoes and mixed them with double cream, butter and self rasing flour. This makes a dough for Norwegian Lefse. She likes them with a little sugar and cinnamon.

Pam (Victoria, Australia) from The Backyard Pizzeria leads us to France, the home of the Fougasse. She also used some potatoes in her dough.

Lynne (Georgia, USA) from Cafe Lynnylu baked her beautiful Three Color Focaccias in cast-iron pans, showing an over 50 year old skillet from her m
other.

Lien (Netherlands) from Notitie van Lien also made Chapattis, Additionally she tells us what to do with leftovers. Her post is in dutch and english.

Gabi (Rhede, Germany) from Crockyblog serves her Aloo Paratha (indische Kartoffelfladen, potato filled flatbread) with a salad and a yoghurt dip. Her entry is in german.

Zlamushka (Malmö, Sweden) from Zlamushka's Spicy Kitchen started experimenting and created Chestnut Flatbread, her new favorite.

Maddy (Los Angeles, California) from Honey Pot used olive oil, sesame seeds, sea salt, dried thyme and oregano as the topping for her Not So Flat Flatbread.

Pooja (NY, USA) from An attempt to spread Love by cooking (resp. My Creative Ideas) teaches us how to make really neat triangular Garlic Parathas.

Elizabeth (Toronto, Canada) from blog from OUR kitchen takes us to China with her Green Onion Cakes (Chinese flatbread). Whereas the recipe she shares with us "is still a work in progress" I'm sure she is on the right way to flaky and crisp bings. Have a look at the interesting comments – this is what I like about blogs 🙂

Manuela (Massachusetts, USA) from Baking History uses rye flour in her Zwiebelplatz – very interesting because rather unusual for flatbreads.

Sus (Griesheim, Deutschland) from CorumBlog shows us her version of Chapati with a special hint for using teflon-coated pans. (Es gibt den Eintrag auch auf Deutsch)

Chris (Atlanta, GA, USA) from Mele Cotte made a Classic Tuscan Flatbread before saying goodbye to carbs for a while 😉

Just in time for this round-up Eva (Australia) from Sweet Sins arrived with a Herbed Focaccia. After another recipe turned out to be a flop she now is pleased with this one!

Finally my own contribution: the Georgian Cheese-Filled Quick Bread (emeruli khachapuri) goes very well with soups of all kinds.
If you still haven't got enough from flatbreads after browsing through all the entries there are 2 more recommendations (thanks to Foodfreak who made me aware of these websites!)
On the flatbread trail by Jeffrey Alford and Naomi Duguid, with an interesting flatbread glossary
Flat out simple, The trail of Mediterranean flatbreads leads around the world, an article in the San Francisco Chronicle
Our next host will be the talented Susan from Wild Yeast. I'm really curious about her theme!