Last week I made a chinese dish called "Sizzling Chicken with Shallots" which I intended to present for the second edition of zorra's onion day. But then I came across some photos I had made quite a long time ago which show the making of caramelized onions, a dish I had never blogged about. I think this recipe fits the occasion better as onions really play the primary part.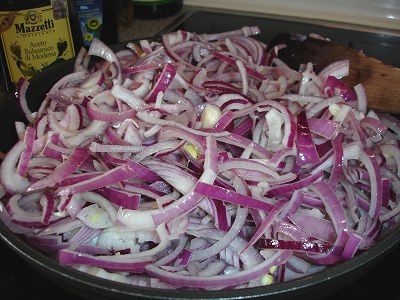 Heat 2 tablespoons of olive oil in a large skillet over medium-high heat until it immediately bubbles when an onion touches it. Add the onions (I used about 1 kg of red onions, peeled, trimmed, halved and thinly sliced lengthwise), sprinkle with salt, and cook, stirring frequently, until they wilt completely and begin to stick to the bottom of the pan, 10-20 minutes (much of the onions' moisture will evaporate and the pan will begin to brown; the cooking time varies with the onions' moisture content).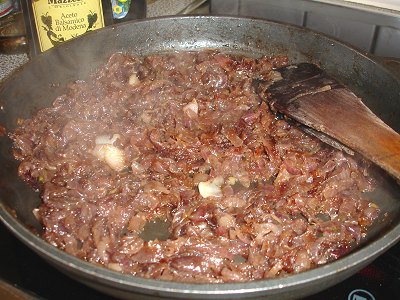 Reduce the heat to medium low, add some balsamic vinegar and brown sugar and cook, stirring and scraping the pan with a wooden
spoon every few minutes. If the pan begins to look like it's burning,
add 2 tablespoons water, stir, and lower the heat a bit. Cook, stirring
and scraping and adding water as needed, until the onions are a uniform
caramel brown, another 30 to 45 minutes. (If they haven't begun to
brown much after 20 minutes, raise the heat to medium.) Add a couple of
tablespoons of water and scrape the pan well.
You can use the caramelized onions right away (we had them sprinkled with chives to accompany a nice grilled steak) or spread
the onions on a baking sheet and let cool to room temperature. Store in
the refrigerator for up to one week.
The onions are great in soups, pasta sauces, stews and braises, on top of a pizza or a burger.