After spending 3 1/2 weeks in Ticino (Southern Switzerland) I had to reactivate my sourdoughs for a few days – after all I wanted to take part in Bread Baking Day Round 3, this time hosted by Ulrike of Küchenlatein. The theme: bread with sourdough, preferably from rye.
So I decided to make just this: a 100% rye bread with rye sourdough.
As rye flour I used swiss "dunkles Roggenmehl" which was a gift from a friend.
The smooth and shiny surface of the bread comes from a glaze (corn starch and water are boiled and cooled) which is brushed onto the hot bread right out of the oven.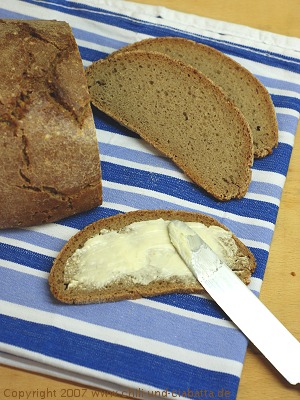 I like the bread thinly sliced and buttered. It tastes great with cheese, but also with a sweet topping like honey or my grape maracuja jam 🙂
| | |
| --- | --- |
| -========= | REZKONV-Recipe – RezkonvSuite v1.4 |
| Title: | 100% Rye Sourdough Bread |
| Categories: | Bread, Rye, Sourdough |
| Yield: | 2 Breads |
Ingredients
H
2 DAYS BEFORE BAKING
50
grams
Rye sourdough (100% Hydration)
100
grams
Water
100
grams
Dark rye flour
H
1 DAY BEFORE BAKING
200
grams
Rye sourdough (not all from above)
140
grams
Water
260
grams
Dark rye flour
H
BAKING DAY
500
grams
Rye sourdough (not all from above)
1
kg
Dark rye flour
660
grams
Water
26
grams
Salt
H
GLAZE
1
tablesp.
Corn starch
250
grams
Water
Source
| | |
| --- | --- |
| | modified after |
| | W. Fahrenkamp |
| | Brot aus dem eigenen Ofen |
| | |
| --- | --- |
| | Edited *RK* 08/31/2007 by |
| | Petra Holzapfel |
Directions
2 days before baking: mix sourdough, water and rye flour. Cover and let rise at room temperature.
The day before baking: mix sourdough, water and rye flour. Cover and let rise at room temperature.
Baking day: Make a dough from rye flour, sourdough, water and salt*. Let rise in a large, lightly oiled bowl. Cover and let rise until almost doubled (time depends on then activity of your starter, here it was 4 1/4 hours).
Put the dough on your lighty oiled work surface and divide it in two halves. Form each half into a log (it's good to use oiled hands as the dough is very sticky).
Put the logs into well floured bannetons and let rise covered for about 1 hour.
Sprinkle some corn meal onto a baking peel. Turn the breads out onto the peel and pick them several times with a fork.
Bake in a hot oven on a baking stone with steam at falling temperature** (240°C 20 min., 220°C 20 min. 200°C 20 min). At the end the internal temperature should be 98°C.
While the bread is baking make the glaze: mix corn starch and cold water, bring to a boil. Let cool. Brush the bread right out of the oven with the glaze. Repeat when the first glaze has dried.
*First I used my Kenwood kitchen machine, but it had problems to mix the dough properly so I finished kneading by hand.
**I used my "Elekro-Steinbackofen" preheated at 250°C (top) and 180°C (floor), switching off the oven when loading the bread.
Rye breads with the typical dense crumb. They taste very good thinly sliced, not too sour.
=====