Columbusfoodie is the host of the second bread baking day, the new monthly bread event created by zorra. After herbs it is fruit in any form we should include in a bread recipe.
Fruit breads tend often to be sweet breads, something I wanted to avoid here – I wanted to bake a "real" bread. Flipping through my bread books I stumbled upon a very nice looking crusty apple baguette in the book Tours de mains, Pains spéciaux by Christian Vabret, a french baker and Meilleur Ouvrier de France Boulanger.
The dough is made with a poolish in which french cider is substituted for water, small pieces of dried apple rings are added towards the end of the kneading.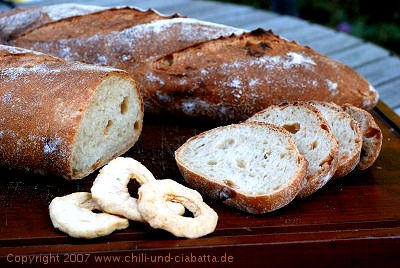 Here is my result: a very pleasing bread with a nice rustic crust and an open crumb.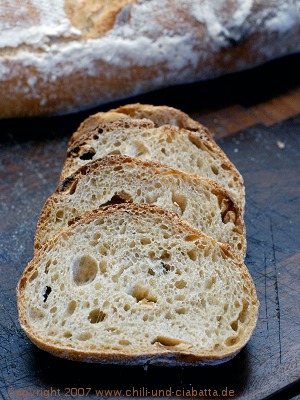 The small apple pieces scattered in the dough help the bread to stay
fresh for about 3 days on the kitchen counter without a plastic bag.
Das Rezept auf Deutsch findet sich in meinem Brotkasten.
| | |
| --- | --- |
| -========= | REZKONV-Recipe – RezkonvSuite v1.4 |
| Title: | Rustic Apple Bread |
| Categories: | Bread, Fruit |
| Yield: | 2 Breads |
Ingredients
H
POOLISH WITH CIDER
150
ml
French cider
150
grams
Dark wheat flour (french: type 80, german: Type
-812)
2 1/2
grams
Fresh yeast
H
FINAL DOUGH
600
grams
Dark wheat flour
300
grams
Water
2 1/2
grams
Fresh yeast
2
tablesp.
Wheat germs
1
teasp.
Malt syrup
12
grams
Salt
25
grams
Dried apple rings
Source
| | |
| --- | --- |
| | modified after |
| | Christian Vabret |
| | Tours de Mains, Pains spéciaux |
| | |
| --- | --- |
| | Edited *RK* 07/17/2007 by |
| | Petra Holzapfel |
Directions
Disperse the yeast in the cider, add the flour and mix until smooth. Cover and let stand for 5 hours at room temperature.
For the final dough add flour, dispersed yeast, water, poolish, wheat germs and malt syrup to a mixing bowl and knead on first speed for 5 minutes, then add the salt and mix for 12 minutes on second speed. In the last minutes add the diced apple rings.
Turn out the dough and put it into an oiled bowl. Cover and let ferment for 75 minutes.
Divide the dough in 2 halves and let rest for 10 minutes. Shape into baguettes and place them seam side up between folds of baker's linen. Cover and let ferment for about 80 minutes.
Lightly dust them with flour and score diagonally across the top with a sharp blade.
Bake with steam at 235°C for about 30-35 minutes using a baking stone.
This bread goes well with cheese, especially ripe Camembert or Brie.
It stays fresh for about 3 days on the kitchen counter.
=====