Looking at this month's theme of WTSIM it seems the passionate cook Johanna is very curious about our easter habbits 😉
Most easters of my life I spent in our holiday home in Ticino, Switzerland, where spring already indulges us with lots of flowering trees like camelias and magnolias. Still one week in cold and snowy/rainy Germany then we will pack our bags and head south again 🙂 I'm already looking forward to our easter brunch with dear friends – here you can see what we had last year. For the sweet tooth this time I will bring my Colomba di Pasqua.
But there where also times we spent easter in Germany. When the kids were still young we didn't have a long and cozy easter brunch because the children were eager to hunt their easter eggs hidden in the house – or in the garden if the weather allowed it. Nevertheless the breakfast table played an important role: it was decorated with flours like tulips and daffoldils and little easter eggs. The impressing center piece was a sweet easter lamb. This year my 19 year old daughter told me she would love to bake with me this lamb again.
So this is what we did: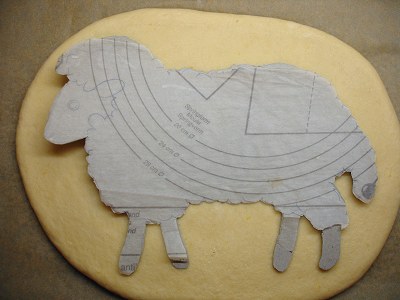 First make a stencil in form of a lamb – it should be about 27 cm long and 20 cm high. To make it easy for you I prepared a pdf which you only have to print out.
Make a yeast dough and roll it out to 1 cm thickness.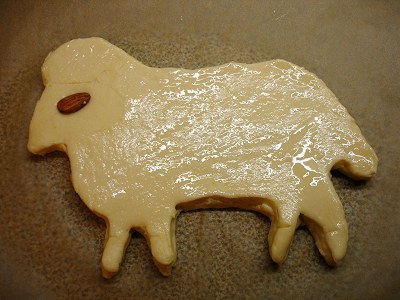 Cut out the lamb, brush it with egg white, omitting the face and the legs. An almond acts as the eye.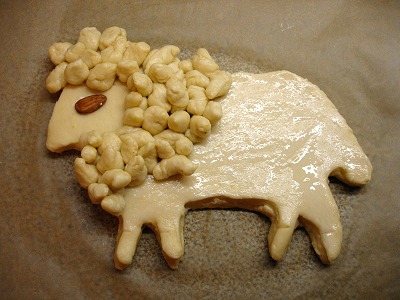 With the rest of the dough form little curls and put them as lambskin onto the body.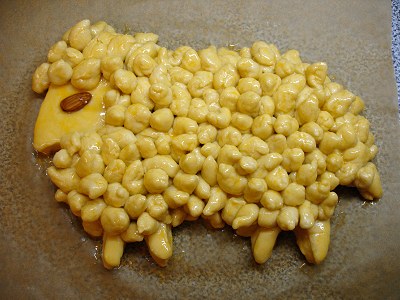 Brush the lamb with egg yolk and bake it for about 30 minutes.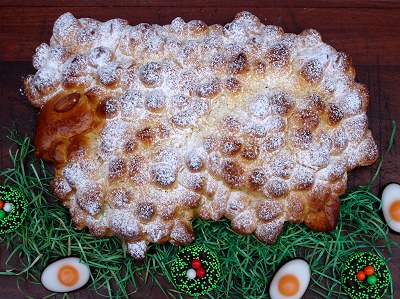 Here you have the baked lamb ready for your easter table.
Das Rezept für das süße Osterlamm in Deutsch gibt's übrigens hier.
| | |
| --- | --- |
| -========= | REZKONV-Recipe – RezkonvSuite v1.4 |
| Title: | Sweet Easter Lamb |
| Categories: | Bread, Cake |
| Yield: | 1 Lamb |
Ingredients
H
YEAST DOUGH
500
grams
All purpose flour
1
pack
Dry yeast
75
grams
Sugar
1
pack
Vanilla sugar
1
Lemon: grated peel
1
pinch
Salt
1
Egg
100
grams
Butter
200
ml
Milk
H
AND
1
Egg; separated
1
Almond
some
Milk
Confectioners' sugar
Source
| | |
| --- | --- |
| | Edited *RK* 03/23/2007 by |
| | Petra Holzapfel |
Directions
Prepare a yeast dough and let it rise until almost doubled (60-75 minutes).
On a baking parchment roll out the dough to 1 cm thickness. Place the prepared stencil (about 25×20 cm) onto the dough and cut out the lamb. Knead together the rest of the dough. Brush the lamb with egg white. Form small rolls (3,5 cm long, 1/2 cm diameter), twist them a little bit and press them side by side onto the lamb to form the lambskin. Leave face and legs without dough curls. Use the almond as the lamb's eye.
Place the baking paper with the lamb onto the baking sheet. Mix the egg yolk with a little bit of milk and brush the lamb with this mixture.
Bake in a preheated oven at 175°C for about 30 minutes. Let cool and sprinkle the lambskin with confectioners' sugar, omitting the face and the legs.
=====