Zorra had the great idea to celebrate St. Patrick's Day by baking or cooking something green or Irish.
Last year I couldn't resist buying a new baking book: The Best of Irish Breads & Baking by Georgina Campbell. As I love to try breads from different countries my first idea was to bake an Irish bread.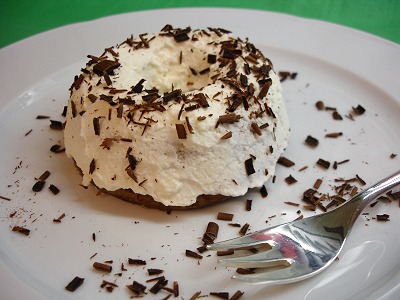 But when I read a little bit further I changed my mind from something healthy to something for the sweet tooth – and made an Irish Coffee Cake.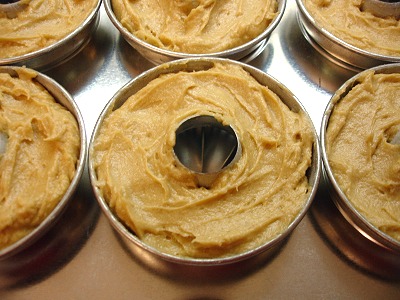 Instead of one 20 cm ring cake tin I filled my six small (8 cm) savarins molds, the rest of the dough went into 3 muffin cups.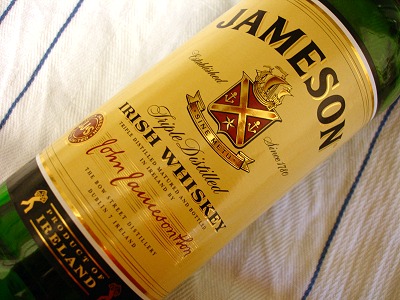 Very important ingredient for this cake: Irish Whiskey, which you need for the Irish Coffee Syrup.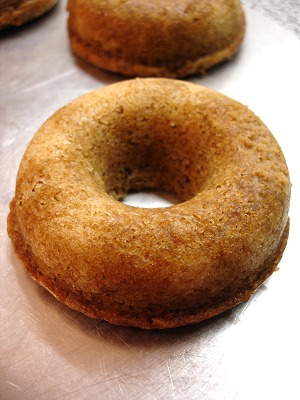 The baked savarins are saturated with this syrup, then demolded…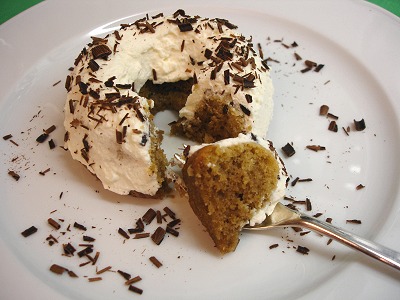 …and spread with whipped cream flavoured again with – can you guess it? – Whiskey.
I cannot but recommend highly these little cakes. They make a wonderful dessert – the whole family fell at once in love with them.
| | |
| --- | --- |
| -========= | REZKONV-Recipe – RezkonvSuite v1.4 |
| Title: | Irish Coffee Cake |
| Categories: | Kuchen, Alkohol, Kaffee, Irland |
| Yield: | 1 Kuchen |
Ingredients
100
grams
Butter, at room temperature
100
grams
Caster (superfine) sugar
2
Eggs, beaten
100
grams
Self-raising flour
2
tablesp.
Coffee essence* (1 1/4-2 1/2 tb)
H

IRISH COFFEE SYRUP
150
ml
Strong black coffee
100
grams
Granulated sugar
5
tablesp.
Irish whiskey
H

TO DECORATE
150
ml
Double cream
Icing (confectioners') sugar, to taste
1
tablesp.
Whiskey, or to taste
Chopped nuts or grated chocolate
Source
| | |
| --- | --- |
| | Georgina Campbell |
| | The Best of Irish Breads and Baking |
| | |
| --- | --- |
| | Edited *RK* 02/28/2007 by |
| | Petra Holzapfel |
Directions
Grease and flour an 20 cm ring cake tin. Preheat a moderate oven, 180°C.
Cream the butter and sugar until light and fluffy. Beat in the eggs, adding some flour and beating well after each addition. When egg and flour are fully incorporated, stir in the coffee essence and mix thoroughly. Turn the mixture into the prepared tin and bake for 35-40 minutes, until springy to the touch. Turn out and cool on a wire rack.
To make the Irish coffee syrup, put the coffee and sugar into a small pan and bring to the boil, stirring to dissolve the sugar. Boil for 1 minute. Remove from the heat and add the whiskey. Wash and dry the tin in which the cake was baked and return the cooled cake to it. Then pour the hot coffee syrup all over it. Leave in a cool place for several hours, then turn out.
To decorate, whip the cream until it is thick and sweeten lightly with sifted icing (confectioners') sugar. Add whiskey to taste. Spread the cake with the whipped cream and chill for an hour before serving, sprinkled with chopped nuts or grated chocolate.
The recipe for this lovely, luscious treat was given to me by Paula Daly, one of the great bakers of this generation. Virtually singlehanded, she kept people all over Ireland interested in baking through her radio programmes, books and advisory services during the dark decades when it looked as if home baking might disappear forever. This delicious cake can be used as a dessert or, like a gateau, eaten with a fork with tea or coffee. It is made in a ring shape, which makes it much easier to serve – and leftovers are never a problem. Makes one 20 cm ring cake.
Petra: I filled 6 small (8 cm) savarin molds. For the coffee essence I used 1 cup portion instant coffee in 1 1/4 tb hot water. Baking time for the the small cakes 20 minutes.
Absolutely great – a real keeper. Though there is a lot of syrup, the cakes are not at all soggy.
=====
St. Pat's Day: Green or Irish