When I came back from shopping this morning my husband lead me to the table where a nice red parcel was waiting for me.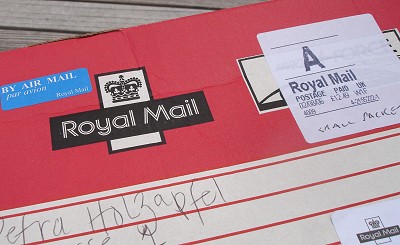 "Royal Mail" – this could be my EBBP parcel… And yes 🙂 it comes from Xochitl Cooks. Perhaps you don't know what "EBBP" means? EBBP #5, is the "Euro Blogging By Post" round 5 and it is hosted by Jeanne from Cook Sister who chose the theme "The Taste of Summer".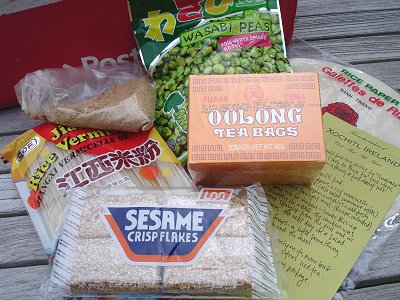 So now let's have a look at what is Xochitl's choice for summer:
Rice paper wrappers and rice vermicelli for summer rolls
spice rub for BBQ chicken (to be tried soon!)
Sesam Snaps for a sweet end of the meal
Oolong tea along with her recipe for citrus ice tea
Wasabi Peas, which I wanted to try since I read this 🙂
and a nice letter (wow! written on special paper as you can admire above) and some recipes
So it's all about asian food which I adore!
Thanks a lot to Xochitl for the gifts and to Jeanne for organising, it was a pleasure to take part! If you are curious: here you can track the other parcels.