I know I'm late – deadline was yesterday for the nice idea of I'll Show You Mine If You Show Me Yours #1 hosted by sweetnicks. Show you what? Oh just a very important thing in the kitchen: the fridge! The rest of the kitchen can be viewed here.
I had read the post – and then forgot about it. Today I saw Ulrikes entry followed by zorra – and decided to show you the photos anyway.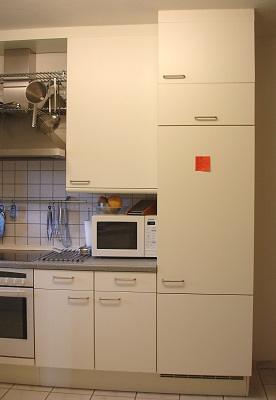 Here's my refrigerator, door still closed. You can recognize a small note on the front: here eyerybody in the family can write down special wishes for meals in the next weeks – but don't take it for granted I'll cook it 😉 Here you can have a closer look and see what this paper looked like when we had our first chinese exchange student Guang Zhen.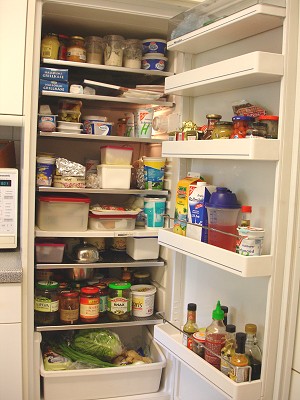 And here I proudly present…
Like Ulrike I store sourdoughs in the top shelf – at the moment 4 different ones (liquid wheat, stiff wheat, whole wheat, rye) and some mustards (ok, at the moment 6 different ones, including sweet mustard for bavarian Weisswuerste annd a very nice tasting french Moutarde à l'ancienne au coulis de piment). Then a mix of cheese (e.g. Halloumi for grilling), sausages, leftovers, cream, buttermilk – not very well organized, I know… The lowest shelves are not as cold as the other ones: here I store vegetables, a lot of asian stuff like chili bean sauce, plum sauce, indian chutneys and relishes as well as capres and gherkins. In the door I have butter (top shelf), eggs (they hide in the second shelf), then pickled chilis, yeast etc. Below milk, orange juice and the red liquid is rhubarb juice (tastes fine with sparkling water or even better with champagne!) and finally some hot sauces (including sriracha) and maple syrup.
I admit: we have a second smaller fridge in the cellar. Mostly for bottles but also for larger things like special cakes or desserts for a crowd.
Three things I have always in my fridge:
Three things I have never in my fridge:
margarine
tomatoes (I think they loose flavor and aroma)
potatoes