The theme of this month's Weekend Cookbook Challenge hosted by Sara and Alicat is Celebrating Cinco de Mayo, featuring mexican cuisine.
From time to time I cook some mexican food as you can see here and here, often it's tortilla time with enchiladas, quesadillas, fajitas etc.
As it's not always easy to get mexican ingredients like e.g. chipotles en adobo here in the Bavarian forest I use to order them online from Mex-Al. One of my last orders contained a large can of Poblanos – and this waited in the cellar for quite some time.
One of my mexican cookbooks is The Essential Cuisines of Mexico written by Diana Kennedy, "the high-priestess of mexican cooking". I have to admit that I made only one or two recipes out of it – WCC #5 is the best time to change this!
Searching for a recipe of stuffed poblanos I stumbled upon "White Rice with Corn-stuffed Chiles" (arroz blanco con chiles rellenos de elote). This sounded interesting – also because at the moment there is a german "blog event" (similar to IMBB) which features vegetarian cuisine and I wanted to try some new vegetarian recipes.
So here we go :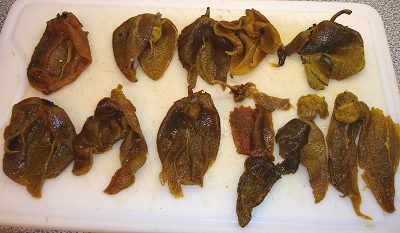 The chiles from the can: unfortunately not all are perfectly intact. Ok, for this recipe that's not so tragic – the stuffed chiles are hidden in mexican white rice with some peas and carrots.
For the stuffing you cook corn kernels (I used frozen ones) with onions until tender. Then you add some epazote, a very typical mexican herb.
Very good – I just had bought a plant in the market-garden (Raritätengärtnerei Treml) where also my ten different tomato varieties come from 🙂
The corn-stuffed chiles with a slice of cheese (I used feta) on the first layer of rice. They are covered by a second layer and heated in the oven.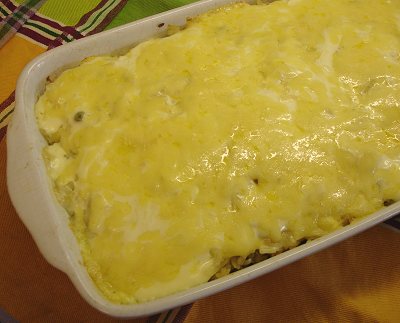 When everything is hot you pour some thick sour cream (I used Creme fraiche) over the rice and sprinkle the dish wit grated cheese (I used Gouda). The cheese should just melt, not brown.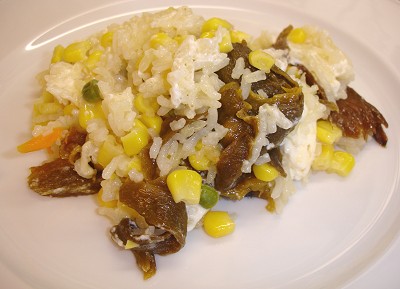 That's how it looks on the plate – no perfectly stuffed chile to be seen 😉
But it really tastes great! Even our chinese exchange student liked it very much. This makes also a very nice recipe for guests as you can prepare everything ahead. And it's a very good choice when your guests are vegetarians 🙂
Here are the recipes (I made a little bit less as we were only four, quantities in parentheses)
===== Title Index (3 recipes) =====

White Rice with Corn-Stuffed Chiles - Arroz Blanco co ...
Arroz Blanco - White Rice
Chiles stuffed with Corn and Cream - Chiles Rellenos ...

-==== REZKONV-Recipe - RezkonvSuite v1.1

     Title: White Rice with Corn-Stuffed Chiles - Arroz Blanco co ...
Categories: Central Mexico
     Yield: 6 Servings (P: 4)

                   Arroz blanco (see recipe), using
      2      cups  (500 ml) long-grain unconverted rice, measured
                   -raw, (P: 300 g) and
      4      cups  (l l) broth (P: 660 ml)
                   Chiles rellenos de elote con crema (see recipe)
  1 1/2      cups  (375 ml) thick sour cream; or creme
                   -fraiche (P: 300 g Creme fraiche)
    115     grams  Chihuahua cheese or mild cheddar, grated (P: 100
                   -g Gouda)

============================== SOURCE ==============================
                   Dianna Kennedy
                   The Essential Cuisines of Mexico
                   -Edited *RK* 05/10/2006 by
                   -Petra Holzapfel

This is a particularly delicious combination of chiles, rice, and
com, and it can be made with either poblano or ancho chiles. A very
substantial dish, this makes an excellent vegetarian main course.

Preheat the oven to 350°F (180°C). Have ready a buttered ovenproof
dish about 4 inches (10 cm) deep and 10 inches (25 cm) across or in
diameter.

Spread half of the prepared rice over the bottom of the dish. Place
the stuffed chiles in one layer over the rice and top with the
remaining rice.

Cover the dish and bake for about 30 minutes or until the rice is
bubbling at the bottom and well heated through. Remove the foil,
pour the cream over the top, sprinkle with cheese, and return to the
oven until the cheese has melted-but not browned.

: O-Title   : White Rice with Corn-Stuffed Chiles - Arroz Blanco con
: >           Chiles Rellenos de Elote

=====

-==== REZKONV-Recipe - RezkonvSuite v1.1

     Title: Arroz Blanco - White Rice
Categories: Reis, Mexiko
     Yield: 6 Servings (P: 4)

  1 1/2      cups  (375 ml) long-grain unconverted white rice
    1/3       cup  (85 ml) vegetable oil
      3   tablesp. Finely chopped white onion
      1            Garlic clove, finely chopped
  3 1/2      cups  (875 ml) well-salted light chicken broth (or
                   -vegetable broth if you want a vegetarian dish)
    1/3            Carrot, scraped, trimmed, and thinly sliced
                   -(optional)
      2   tablesp. Peas (optional)
                   Salt to taste

============================== SOURCE ==============================
                   Dianna Kennedy
                   The Essential Cuisines of Mexico
                   -Edited *RK* 05/10/2006 by
                   -Petra Holzapfel

You will need a heavy-bottomed, flameproof pan about 4 inches (10
cm) deep and 9 inches (23 cm) across. Pour hot water to cover over
the rice and let it stand for about 5 minutes. Drain the rice and
rinse well in cold water. Shake the colander well and leave the rice
to drain for a few minutes.

Heat the oil. Give the rice a final shake, add it to the pan, and
stir until all the grains are well covered with the oil. Fry until
just turning color, then add the onion and garlic and fry a few
moments longer until these two ingredients are translucent, stirring
and turning almost constantly so that they cook evenly and do not
stick to the pan. The entire process should take about 10 minutes
depending, of course, on the size of the pan - and it should be done
over high heat or it will take too long and the rice will become
mushy in the final stage.

Tip the pan to one side and drain off any excess oil (strain and
refrigerate to use again). Add the broth, carrot, peas, and salt to
taste and cook uncovered over medium heat - do not stir again until
the liquid has been absorbed and small air holes appear in the rice
about 10 minutes. Cover the rice with a piece of terry cloth and
then cover with a tightly fitting lid so that none of the steam can
escape. Set aside in a warm place for about 20 minutes, so it can
continue to cook and the grains will expand.

Before serving, loosen the rice with a fork from the bottom. Serve,
if desired, topped with Rajas de Chile Estilo Oaxaquefio or Rajas de
Chiles Jalapenos Frescos, or with fried plantain.

=====

-==== REZKONV-Recipe - RezkonvSuite v1.1

     Title: Chiles stuffed with Corn and Cream - Chiles Rellenos ...
Categories: Reis, Gemüse, Käse, Mexiko
     Yield: 6 Servings (P: 4)

    1/4       cup  (65 ml) unsalted butter (P: 50 g)
  1 1/4      cups  (315 ml) finely chopped white onion (P: 3 md)
      2            Garlic cloves, finely chopped
      4      cups  (1 l) corn kernels (if frozen, measure before
                   -defrosting) (P: 450 g)
                   Salt to taste
    1/3       cup  (85 ml) water, if necessary (P: -)
      3   tablesp. Finely chopped epazote (P: 2 tb)
     12     small  Poblano chiles, charred, peeled, and cleaned;
                   -(P: 1 can, 10 poblanos) OR
     12            Ancho chiles, seeds and veins removed, soaked in
                   -hot water for 15 minutes
    240     grams  (225 g) queso fresco, cut into thick slices (P:
                   -150 g Feta)
      2      cups  (500 ml) thick sour cream; or creme fraiche (P:
&nbsp
;                  -300 g Creme fraiche)
     90     grams  (85 g) Chihuahua cheese or mild cheddar, grated
                   -(P: 100 g Gouda)

============================== SOURCE ==============================
                   Dianna Kennedy
                   The Essential Cuisines of Mexico
                   -Edited *RK* 05/10/2006 by
                   -Petra Holzapfel

Of all the combinations of chiles, corn, and cream, this is by far
the most luscious. Either poblano or ancho chiles can be used; they
are equally delicious. This dish makes a wonderfully rich and exotic
first course. Use frozen kernels if you cannot get very fresh,
tender corn. Creme fraiche or homemade sour cream should be used, as
the commercial sour cream curdles when cooked.

These chiles baked in a dish of white rice make a delicious
vegetarian dish.

Melt the butter in a large skillet and fry the onion and garlic
gently, without browning, until soft - about 2 minutes. Add the corn
kernels and salt, then cover the pan and cook over gentle heat until
the kernels are tender. If the corn is very dry, add about 1/3 cup
(85 ml) water. Cooking time is 10 to 15 minutes, depending on
whether fresh or frozen corn is used. Add the epazote and adjust the
seasoning. Set aside to cool a little.

Preheat the oven to 350°F (180°C).

Clean the chiles carefully, leaving the top and stem intact. Stuff
the chiles well with the corn mixture. Put a slice of cheese in the
center of the filling (the chiles should be fat but open).

Place the chiles in one layer in a shallow ovenproof dish into which
they will just fit comfortably. Pour over the sour cream and bake
until well heated through, then sprinkle with the grated cheese and
continue to bake until the cheese is melted.

NOTE: You can make the corn stuffing ahead and refrigerate it. If
you do, just heat it through a little before filling the chiles.
Cover the dish with foil and put in a 350°F (180°C) oven for 20 to
30 minutes.

: O-Title   : Chiles stuffed with Corn and Cream - Chiles Rellenos
: >           de Elote con Crema

=====