For the first time I'm taking part in the Euro Blogging By Post. This
is a parcel swap especially for european food bloggers (4th round
already!) and it's hosted by Andrew of Spitoonextra.
On Saturday he told me where I had to send my parcel: on
Monday it was on it's way to Eva in Brussels, Belgium (even Andrew couldn't
tell me the name of her blog so I'm quite curious to read the round-up!)
So when the postman rung today (which he only does when he's bringing
post not fitting in our letter box) I was very excited: should this already be the parcel for me?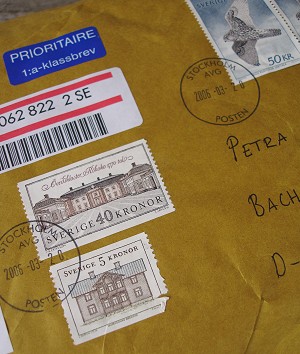 A look at the stamps confirmed: yes – a parcel
from Sweden! The sender is Kristina in the Stockholm Area.
So let's have a look at the great things she sent to me: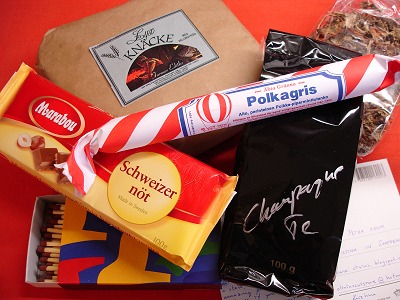 Äkta Gränna Polkagris, a peppermint candy stick from Gränna (see also Polkagris in the German Wikipedia). I love peppermint!
Schweizernöt: milk chocolate with hazelnuts
long swedish matches in a beautiful coloured box
her favourite tea (smells really delicious!)
a bag of dried funnel chanterelles picked by Kristina (in german: Trompetenpfifferlinge). I really like them, they also grow here in the Bavarian Forest – but I never had them dried.
swedish Knäckebröd with poppyseeds. Fantastic – I'm an absolute fan of bread and bread baking 🙂 The Knäckebröd really looks like artisan bread: it is very thin and unregularly browned, very much different from the industrial "Wasa"-style Knäckebröd you get here in Germany.
a nice postcard where she explains everything and even offers to send me some recipes for the mushrooms: she suggests to pare them with root veggies.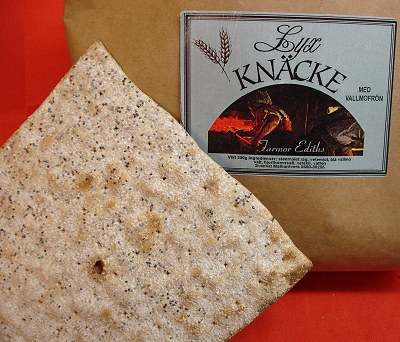 Dear Kristina, you made me happy – I really have to thank you so much for this wonderful parcel 🙂
Update: Wer neugierig ist und mal in die anderen Päckchen gucken möchte – das Round-up gibt es hier.