This is the first time I'm participating in Sugar High Friday. But the theme of Kelli from lovescool was irresistible: "The dark side" meaning dark chocolate! And it was a good reason to try a recipe I wanted to make for quite a long time.
As I love Molten Chocolate Cakes I thought I should give the "Chocolate Truffle Ravioli" of Gordon Ramsay's Secrets a try: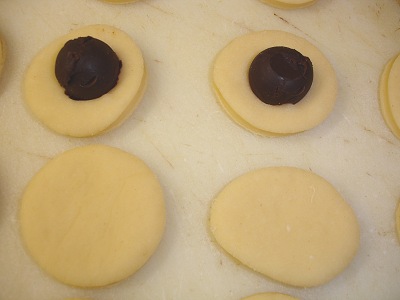 Little
ganache balls are hidden between two rounds of brioche dough,
deep-fried in hot oil and rolled in caster sugar while still hot.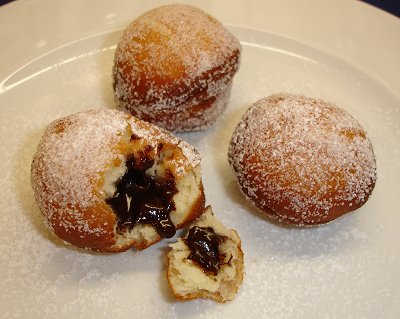 They are served warm so that the melted chocolate filling oozes out when you open them with a fork.
The
recipe isn't difficult to follow, the dough is a pleasure to work with
🙂 From the rest of the dough I could even make a little brioche bread
for breakfast.
As
you can see in the picture above the "ravioli" didn't stay flat but
puffed up in the hot oil and turned into little balls – they reminded
me rather of chocolate filled "Berliner" (a kind of doughnut) – so I
think the name is a little bit misleading.
I'm sorry that I have to say that though they tasted quite good I didn't find them outstanding…
As I
like to prepare dessert for a menu in advance I tried to freeze some of
the chocolate-filled ravioli before frying. I took them out of the
freezer 2 hours before the meal and let them defrost at room
temperature, putting them in the fridge 30 minutes before frying to
harden the chocolate filling. This works very well.
Update: Das Rezept gibt es hier in deutscher Übersetzung.
========== REZKONV-Rezept - RezkonvSuite v1.0

     Titel: Chocolate Truffle Ravioli
Kategorien: Dessert, Teig, Frittieren, Schokolade
     Menge: 20-24 Stücke

========================== GANACHE FILLING ==========================
     80     Gramm  Dark chocolate (60% cocoa solids)
     40     Gramm  Unsalted butter
      3      Essl. Double cream

=========================== BRIOCHE DOUGH ===========================
     10     Gramm  Fresh yeast or 2 teaspoons dried active
                   -yeast
    150        ml  Tepid milk
     25     Gramm  Caster sugar, plus extra to dust
    400     Gramm  Strong plain flour
      2      Teel. Fine sea salt
     40     Gramm  Unsalted butter
      2     mittl. Free-range eggs, beaten
                   Vegetable oil, for deep-frying

============================== QUELLE ==============================
                   Gordon Ramsay's Secrets
                   -Erfasst *RK* 19.10.2005 von
                   -Petra Holzapfel

Brioche dough is highly versatile. These little brioche
'doughnuts'are filled with a chocolate ganache, which melts in the
centre and oozes out as you bite into them. Quite divine as a chic
dessert or treat with coffee.

1. First make the ganache. Break up the chocolate and place in a
heatproof bowl with the butter and cream. Place over a pan of gently
simmering water and stir until melted and smooth. Remove and cool,
then chill until solid.

2. Using a small melon bailer, scoop out 20-24 balls of ganache;
they don't need to be perfect spheres. Chill until required.

3. To make the brioche dough, if using fresh yeast mix with the
tepid milk and a pinch of the sugar. If using dried yeast, whisk the
granules into the milk with a pinch of sugar and set aside until it
starts to froth.

4. Meanwhile, sift the flour and salt into a large bowl, set on a
damp cloth to hold it steady. Rub in the butter until the mixture
resembles fine breadcrumbs, then mix in the remaining caster sugar.
Make a well in the centre. Pour in the yeasty milk and all but 2
tablespoons of the beaten egg. Mix to a dough and shape into a ball
with your hands.

5. Knead on a lightly floured surface for about 8 minutes until the
dough is smooth and elastic. Place in an oiled large bowl and turn
the dough to coat in the oil. Cover the bowl with cling film and
leave in a warm place until the dough has doubled in size.

6. Knock back the dough, then knead until smooth. Roll out on a
lightly floured surface to the thickness of a £1 coin. Using a 5 or
6 cm cutter, press out 40-48 rounds, re-rolling if necessary and
shape the ravioli: Place a chocolate ball in the centre of half the
rounds. Brush around the edges with the reserved egg, thinned with a
little water. Cover with the remaining rounds and mould the dough
around the chocolate with your fingers. Press the edges together
well to seal. You will now have 20-24 little flying saucers! Rest in
the fridge for 15 minutes.

7. When ready to serve, half-fill a deep saucepan or deep-fat fryer
with oil and heat to 180°C. Have ready a shallow bowl of caster
sugar, and kitchen paper for draining. Deep-fry the filled dough
balls, about 4-6 at a time, for 1 1/2 minutes until golden brown.
Drain on kitchen paper for a minute, then toss in the sugar to coat.
Cool slightly, but serve still warm so the chocolate centre is still
melted.

=====
Technorati-Tags SHF #13, The Dark Side