It's
finally spring – and a lot of fresh vegetables are available in the
markets. Young baby carrots do taste a lot better than the large
stored ones – you can nibble on them raw or even better serve them
glazed as a side dish.
For this IMBB-Edition
I created a flan from glazed carrots. I was really astonished how well
this worked: is really tastes great. I served it on a cold
sauce made with Creme fraiche and lots of fresh chives from the garden,
so it's a real spring treat.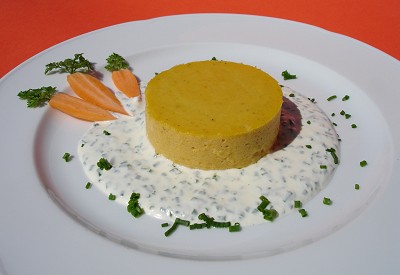 Carrot Flan with Chive Sauce
Flan
200 g carrots (peeled, cut in pieces, large ones sliced lengthwise in half)
25 g butter
1 pn of sugar
salt
pepper
3-4 tb water
1 pn curry powder
125 ml cream
2 lg eggs
Chive Sauce
125 g Creme fraiche (30% fat)
60 g Creme double (42% fat)
1 ds whipping cream (30% fat)
salt
pepper
1 ds lemon juice
4 tb chives cut into small pieces
Garnish
1 carrot, lengthwise sliced 1/8 inch thick
some chervil leaves
Butter 4 ramekins (about 100 ml volume each) and chill.
Preheat an oven to 160°C. Place a shallow baking dish with a little bit of hot water in the middle of the oven.
Heat butter in a small saucepan over medium-high heat. Add sugar,
salt and pepper. When the butter foams add the carrots and the water,
cover and reduce to medium low. Cook slowly until the carrots are
tender and the water has evaporated. Uncover, add a little bit of curry
powder and stir for one more minute. Purree the carrots and let cool a
little bit.
Mix cream and eggs, then stir in the carrot mixture. Season to taste.
Divide the carrot mixture evenly amongst the ramekins. Place the
ramekins in the baking dish. Pour enough boiling water to reach 2/3 up
the sides of the ramekins. Bake for 30 minutes until the flans are set.
Allow to cool slightly before unmolding.
For the chive sauce whisk creme fraiche, creme double and cream to
obtain the desired consistence. Season with lemon juice, salt, pepper
and stir in the chives.
Spoon the sauce in the middle of a plate and spread with the back of
a spoon. Place the flans on the sauce. Sprinkle with chopped chives.
For garnish cut small "carrots" from the carrot slices and add a chervil leaf to imitate the greens of the carrots.