I
really don't know anybody who doesn't like cupcakes and/or muffins (If
you don't like sweet ones just take savory ones…). Makiko from I was just really very hungry hosts this very popular theme for the 13th edition of "Is My Blog Burning" – so even my daughter decided to take part today (check her blog over at livejournal)! I'm sure we will see a lot of mouth-watering entries 🙂
Bee sting cake ("Bienenstich) is a very popular cake in Germany.
Normally it consists of a yeast dough with a caramelized
almond-honey-cream topping. Most of the time it is filled with a
vanilla custard (recipes here or here).
The muffins I chose look like little bee sting cakes but are done
much quicker than the original. If you want a more luxurious version
bake the muffins without the filling in muffin cups without papers.
After cooling slice them horizontally and fill them with custard or
vanilla butter cream.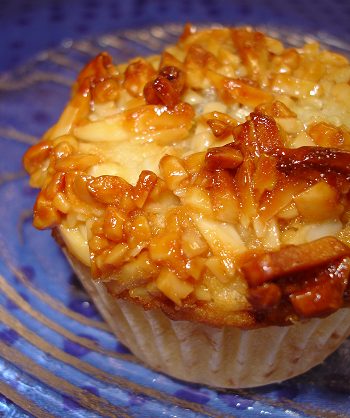 Bee Sting Muffins (Bienenstichmuffins)
(recipe from a German mailing list)
Topping
60 g cream
20 g honey
20 g sugar
1/2 ts grated lemon peel
150 g slivered, blanched almonds
Filling
100 g cream cheese (Philadelphia)
2 tb confectioners' sugar
1 pk vanilla sugar*
1 ts rum
Dry ingredients
240 g all-purpose flour
2 ts baking powder
1/2 ts baking soda
Wet ingredients
large egg
90 g sugar
80 ml vegetable oil
260 ml buttermilk
butter; for muffin tins or
12 muffin papers
Preheat oven to 180°C. Prepare the muffin tin (either with papers or butter thoroughly).
For the topping combine cream, honey, sugar and lemon peel in a
small saucepan and bring to a boil. Cook for 2-3 minutes then stir in
the slivered almonds. Set aside.
For the filling cream Philadelphia, confectioners' sugar, vanilla sugar and rum. Set aside.
Sieve the flour, baking powder and baking soda together.
Combine slightly beaten egg with sugar, oil and buttermilk. Beat
well. Pour wet ingredients over dry; stir just enough to combine. Avoid
over-mixing.
Spoon half of the dough into the cups. Add 1 teaspoon of the cream
cheese filling to each cup, then fill with the rest of the dough.
Divide the topping between the cups.
Bake the muffins 20-25 minutes, until golden brown. Remove from the
oven, let rest for 5 minutes, then remove from tin; serve warm or at
room temperature.