Das Rezept für den Linsensalat in Deutsch gibt's hier in meiner Kochkiste.
Beans – what an interesting theme! Thanks go to Cathy from my little kitchen who had this great idea 🙂 But how difficult to decide which beans to cook with… As Cathy tells us "The
beans can be dried, fresh, canned, in the pod or not, or they could
even be sprouted. They can be kidney beans, black-eyed peas, black
beans, chickpeas, brown lentils, red lentils, chana dal, green beans,
fava beans, navy beans, pinto beans, …"
Ok, so let's see… Here in Germany it's winter and green beans are not in season (but I had quite a lot of them last
summer from my garden). So I'll skip these (but I have to
admit there would have been a really matching recipe which I owe
to my friend Ralph in California): "Salmon with Three Beans"
from west coast seafood by Jay Harlow – you can soon read about it here in my blog).
Black beans? I'm a great fan of black beans too and I blogged already about my Black Bean Soup…
But then I stumbled over a package of green Puy lentils which I brought back from our last trip to France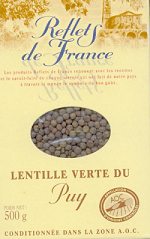 I'll make a green lentil salad!
These very small lentils which have an AOC (Appellation
d'Origine Contrôlée since 1996) need only a short cooking time and
retain their shape and texture when they're cooked, without going
mushy. And they taste great!
I already tested some recipes for lentil salads – but my absolute favourite comes from the wonderful book Mit Liebe, Lust und Thymian (could
be translated as "with love, passion and thyme") by the swiss cook and
journalist Elfie Casty. Besides lentils we have here carrots, cellery,
leek and bacon cut into a very fine brunoise. The dressing is made out
of mild italian traditional Balsamico vinegar and an austrian specialty: dark green pumpkin seed oil.
Pumpkin seed oil is extracted from pumpkin seeds that have been coarsly
ground and toasted at temperatures of about 60 °C. By this
procedure it develops its intense, nutty odour and flavour (I
recommend the great spice pages of Gernot Katzer to learn more about the oilseed pumpkin).
So here we go:
Green Lentils with Balsamico Vinegar and Pumpkin Seed Oil
Serves 2
75 g lentils
1/2 small onion
1 clove of garlic, unpeeled
1 bay leaf
1 clove
1 sprig of thyme
2-3 sprigs of parsley
1 tb carrot brunoise
1 tb cellery brunoise
1 tb leek brunoise
1 scallion
1 ts butter
20 g bacon
1 tb traditional Balsamico vinegar
2 tb finest pumpkin seed oil
salt
pepper
parsley for garnish
Rinse the lentils in a small sieve under running cold water. Cook
them at medium heat with the onion, garlic, bay leaf, clove, thyme and
parsley sprigs in about 400 ml lightly salted water until tender but
still "al dente". Drain them in a fine-mesh sieve.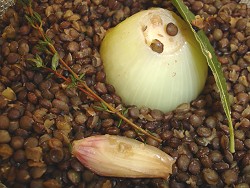 Discard the onion and the spices and place the lentils in a bowl.
Meanwhile cut the scallion into fine rings, the carrot, callery,
leek and the bacon into very fine brunoise (about the same size as the
lentils).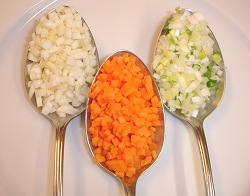 In a small saucepan bring some salted water to a boil. First shortly
blanch the leek, then remove it with a slotted spoon and let drain on a
kitchen paper.
Then blanch cellery and carrots "al dente" in the same water and drain through a fine-mesh sieve.
In a small saucepan cook the bacon until crisp, then add leek,
cellery and carrots. Give it a stir, then mix everything with the
lentils. In the same saucepan heat the butter and cook the scallion
rings until golden.
Season the lentils with salt, pepper, Balsamico vinegar and pumpkin seed oil to taste.
Serve the lentil salad still warm on large plates, garnish with the scallion rings and parsley.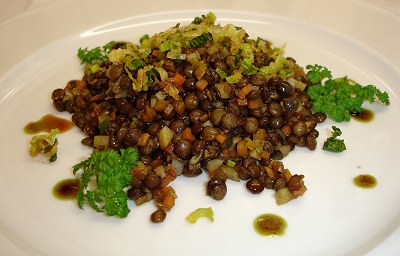 I didn't have fresh parsley, so I took chervil from my garden, which is absolutely fresh under the snow 🙂