Normally I wouldn't bake christmas cookies that early – but the Domestic Goddess calls our attention to a special event – a cookie swap! A great idea for the IMBB! Who could resist? I can't!
So may I invite you to have a look into this year's first cookie box: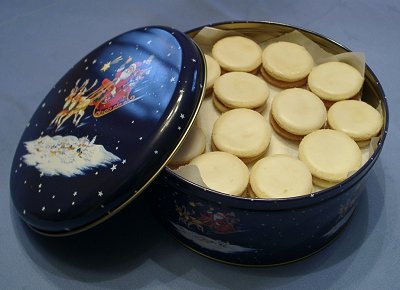 Usually I end with about 15 boxes with different "Weihnachtsplaetzchen" in the cool cellar at the beginning of december. The four weeks before Christmas are called "Advent". The family will gather around the table with a nicely decorated advent wreath with 4 candles (one more candle is lit for each of the Advent Sundays), talking and eating x-mas cookies – and perhaps drink some  Gluehwein – german glow wine 🙂
This year the structure of the family differs a little bit: daughter Kathi (20) is studying in Erlangen, Frani spends a year as an exchange student in Uruguay but we will introduce our chinese exchange student Ma Guang Zhen to the german christmas customs 🙂
So here's the recipe for my Grandma Hermine's
Hildatoertchen
makes about 35 cookies – I usually double the recipe
Dough
200 g all purpose flour
125 g almonds
150 g butter
125 g sugar
1/2 ts ground cinnamon
1 ts baking powder
Filling
red currant jelly or raspberry jelly
frosting
100 g confectioners' sugar
lemon juice
Place the un-skinned almonds in a heatproof bowl and pour boiling water over them. Let sit for some minutes until you can remove the brown skin easily. Dry them completely at about 60°C in an oven with convection feature or at about 80°C in an normal oven, then ground them finely.
Sift together flour, cinnamon and baking powder, then mix with sugar and finely ground almonds. With two knices cut the butter into the flour-mixture until it's texture is fine and looks like cornmeal, there may be larger pieces in the size of peas. Knead the dough together. Be patient, this lasts a little bit but finally you arrive there.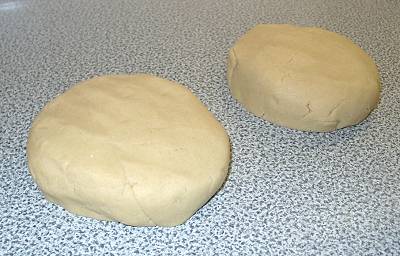 Wrap dough in plastic and let rest the dough in a cool place for at least 1 hour. (the picture shows the dough in 2 pieces for the doubled recipe)
Heat the oven to 200°C and prepare baking sheets with baking paper.
If the dough becomes too hard, let it stand at room temperature for some time before rolling. Roll the dough on a little bit of flour between 2 sheets of waxed paper or plastic to about 1/2 cm thick.
ut out round cookies (4 cm diametre) and transfer them to the sheets. Gather and reroll the scraps.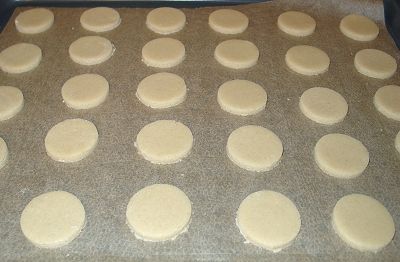 Bake until very light brown (there should be no golden brown at the edges) about 7 minutes. Let cool.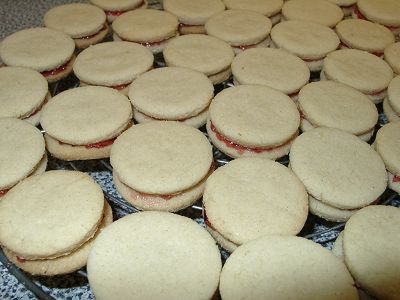 With a table knive smear red jelly on top of one cookie and top with another one. Continue with the other cookies.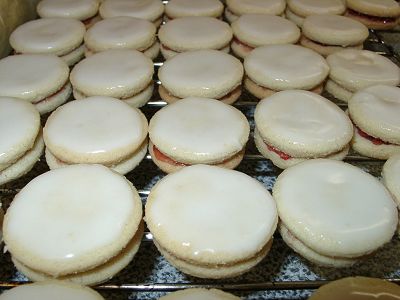 Combine confectioners' sugar and lemon juice to make a thick frosting. With a brush apply the frosting to the cookies and let dry.
Store the cookies in a metal container between sheets of parchment.
Oh, may I confide something to you?
I couldn't stop making just 1 sort of cookies – here are 4 more: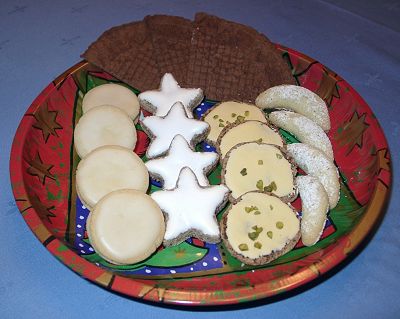 In the front from left to right: Hildatoertchen (well-known by now!), Zimtsterne (Cinnamon Stars), Falsches Butterbrot (False Butterbread – because they imitate "Vollkornbrot" with butter and chives) and Vanillekipferl (Vanilla Croissants), in the background Zimtkarten. Sorry – the recipes in the links are available only in german 🙁