Redbeard is hosting the IMBB7 and wants us to play with nice little balls 😉
Dumplings or "Knödel" – a wonderful theme for someone who lives in Bavaria…
The quite large Bread Dumplings "Semmelknoedel" (made of left
over rolls) seem to be the oldest, but there exist innumerable
varieties for example made of Brezeln, raw and/or cooked potatoes,
semolina, liver, bacon, cheese or mixtures of these ingredients.
According to an ancient legend Semmelknoedel were even used as a
weapon by a brave woman in Deggendorf, a city nearby, who put off King
Ottokar by throwing dumplings in the 13th century 😉
Typical dishes to serve with Semmelknoedel are roasts with sauce
as e.g. roast pork or game dishes, but also mushrooms (called
"Schwammerl" here) in a creamy sauce ("Schwammerlgemüse").
At the moment mushrooms are found in abundance on bavarian markets as you can see here on the famous Viktualienmarkt in Munich. So I decided to serve my Semmelknoedel with a ragout of chanterelles.
Nearly every bavarian supermarket or bakery carries ready cut
rolls called "Knoedelbrot". Of course you can use 1-2 days old Kaiser
Rolls which should be very finely sliced.
Bavarian Bread Dumplings
3-4 servings
250 g "Knoedelbrot" or 5 rolls ("Semmeln"), 1-2 days old
2 tb butter
1/4 l milk
2 eggs
1 tb italian parsley; finely chopped
1 onion; finely chopped
1/2 ts Salt
1 pn pepper
Put the "Knoedelbrot" or the diced rolls in a large bowl.
Sautée the onions until translucent, add the parsley, set aside.
Bring the milk to a boil and pour it over the rolls, cover and let stand for 10 minutes, turning once.
Add the eggs, salt, pepper and the onion mix,
mix with your hand by squeezing the mass through your fingers.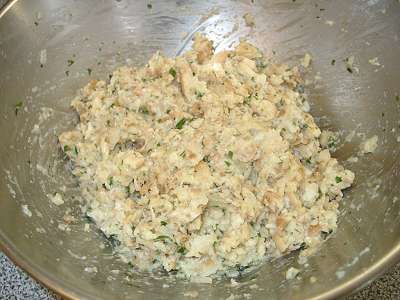 With wet hands form large dumplings (almost as large as tennis balls)
and let simmer in salt water 20 minutes until done.
Transfer the dumplings with a slotted spoon to a large bowl and serve.
Leftover dumplings can be cut in slices and fried in butter
until crispy brown (if you like you can add beaten egg), serve with
green salad.
For those who are interested in austrian, bavarian and bohemian
dumplings and would also like to read some "Observations on the
Philosophy of the Dumplings ("The Round Object")" including
"Philosophical reflections on Dumpling Water" 😉 I recommend the book
by Franziska Helmreich and Anton Staudinger
"Nur Knoedel"
The Ultimative Dumpling Book from Austria, Bavaria and Bohemia
(text in German and English)