Wow, seems heaven knows that we want to grill this weekend for the 6. IMBB – Grillers (and Barbecuers) Delight hosted this time by the blog of Too many chefs.
The last weeks we had wet and cold weather here in Bavaria, not a bit
of summer. But now: blue sky and a warm day without a thunderstorm 🙂
We have done some grilling this year, the results are getting better and better.
One of my favourite cookbooks is Steven Raichlens The Barbecue! Bible. A recipe we like a lot and have made quite often are the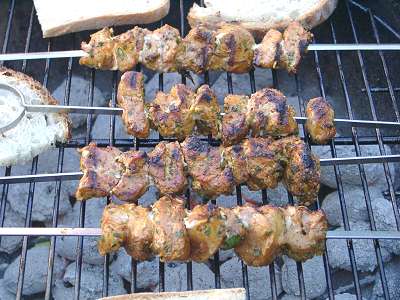 Spanish Pinchos Muronos, Pork with Moorish Seasonings. You can find the recipe here. It's nice to prepare ahead because the pork tenderloin has to be marinated at least 3-4 hours or as long as overnight.
We did serve the kebabs with different side dishes but never
with the escalivada (grilled vegetable salad) and the roasted tomato
garlic bread as Raichlen recommends in his book. But this time we
wanted to try both.
In the morning I baked a Pane di Como ( the recipe for the bread comes from Carol Fields The Italian Baker which I think suits very well even if it isn't a spanish bread) with a biga I had prepared the night before (recipe in german and photos) for the Pa amb tomàquet (for the recipe you have to scroll a little bit),
a catalan tomato bread which you prepare by roasting slices of
bread on the grill and then rubbing them with garlic and cut ripe
aromatic tomatoes. You finish by drizzeling with a little bit of olive
oil and seasoning with salt and pepper. Absolutely delicious!
Before grilling the kebabs and the bread you have to prepare the escalivada, a Spanish Grilled Vegetable Salad.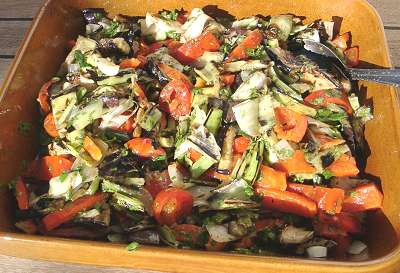 I used a slightly different version of Raichlen's recipe:
Escalivada:
2 red bell peppers
1 large onion, peeled, halved vertically, each half quartered
2 eggplants, cut in slices lengthwise
1 bunch scallions, trimmed
4 young leeks, only the white, cut in half lengthwise
2 small zucchini, quartered lengthwise
8 cherry tomatoes, cut in halves
Grill the whole unpeeled and uncored red bell peppers until its
skin blisters black. Remove from the grill and cover them with a
moistened towel and let cool a bit. Then slip off the skin, remove the
core and seeds, and cut into quarters, these into stripes.
Brush
the eggplant, zucchini and the other vegetables with olive oil,
sprinkle with salt and pepper, and grill until the pieces have
attractive grid marks. I set the tomato halves on a piece of aluminium
foil because they were quite small.
When the vegetables are done, put them on a cutting board, cut them in nice pieces and toss with the vinaigrette.
Vinaigrette sauce:

1 tb red wine vinegar
2 tb sherry vinegar
salt
freshly ground pepper
1 garlic clove, peeled and finely chopped
80 ml extra virgin olive oil
3 tb italian parseley finely chopped
This salad tastes fantastic – all the vegetables keep their own distinctive flavor. This will be a definitive keeper!
Now you can come to table :-))